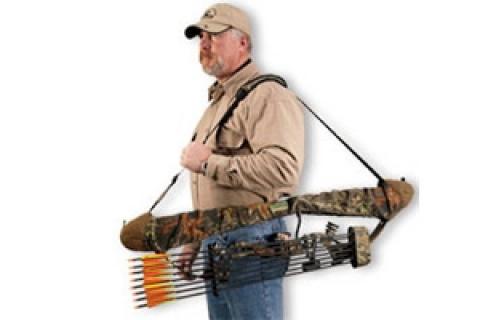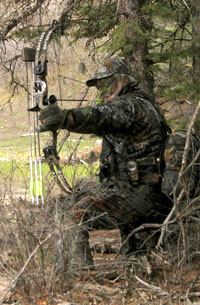 There's nothing worse then climbing 20 feet up a tree, anticipating a long vigil next to a well-traveled funnel, than to suddenly realize you've forgotten your camo gloves, headnet, bow holder, or water bottle.  Even worse would be discovering that your sight was out of whack.  Prevent frustrating and untimely mistakes from ruining your hunt by getting organized and utilizing gear designed with hunters needs in mind.


Whether you're heading to your favorite deer stand for a few hours or an entire day, you have gear you'll want to bring along.  No doubt, some of that gear will include a first aid kit, a map and compass, a saw, knife, flashlight, toilet paper, calls and scent, snacks and water.  Longer hunts may include extra clothing, rain gear, hats, and gloves.  Whatever your hunt calls for, use that criteria when choosing your packs.  You'll find many different sizes of fanny packs and backpacks offered.  Look for packs with quiet fabrics and water repellent or waterproof finishes.  Padded waist and shoulder pads are a boost for comfortable hikes in and out of the woods, and packs with numerous compartments and pockets for organizing different size accessories (releases, calls, maps, handheld GPS, scents, etc.) are essential for keeping items from lumping together in a messy mass.  Look for easy accessibility and quiet zippers.


For longer outings, look for backpacks featuring a waist belt and a sternum strap for stability. These are a great feature for hunts that require hands-free climbing over tough terrain or strenuous treks through rough and uneven ground.  They should feature reinforced stitching on straps and stress points, and should have water bottle holders or be hydration-bladder compatible.  While pricier, but essential, you'll also find many bowhunter packs offered with scent-containment linings as well.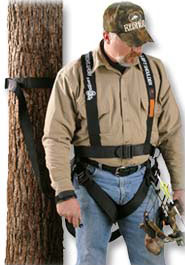 Nothing is more important than making sure you are safely attached to the tree.
Once you've got your gear packed, you may consider a bow or gun sling to carry your weapon as well.  This may seem unnecessary to some, but depending on the length of your hike and hunt, it can be a welcome piece of equipment for a weary hunter.  Look for adjustable, padded straps backed with "non-slip gripping" materials to keep straps from slipping off your shoulder.  Straps are available in leather, neoprene, molded foam, or nylon-choose a material that suits your needs and liking.  Be sure the straps are wide enough to keep from digging into your shoulder when wearing a thin layer of clothing.


Once you've reached your stand location, and you're ready to climb up, first be sure you're wearing a safety harness that holds you!  Nothing is more important than making sure you are safely attached to the tree.  Make sure the safety harness you choose is rated for your specific weight and chest size and look for a strap system or safety vest with integrated straps that wrap around your waist, shoulders, and each leg, quick release buckles, and plenty of pockets to keep essentials at hand.


Next, be sure you have a good bow or gun rope to hold your weapon firmly and securely as you haul it up to your stand. Avoid thin ropes that will tangle easily in your pocket or pack.  Heavy duty dark-colored roping with clips on the ends are ideal.  Another item on the market ideal for hauling weapons up and down from stands is a flat strap that clips to a gun or bow and "reels" from a plastic housing much like a fishing reel.  This accessory is compact, quiet and always, always keeps your strap untangled and ready to use.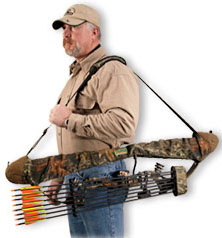 Once you've got your gear packed, you may consider a bow or gun sling to carry your weapon as well.
Once you've climbed up to your stand, it's essential to have your items readily available and within reach without making a lot of movement or noise. You'll find screw-in rubber-coated gear hangers ideal for hanging bows, quivers, calls, rattlin' horns, binoculars, or range-finders.  Less invasive are the holster straps with hanging hooks that wrap around a tree trunk and cinch tightly in place.  More versatile are the "adjustable rod hangers" that adjust to various heights and angles to hold bows or even video cameras, though these have the disadvantage of possibly allowing bows to "rock" or "sway" in a strong wind as they hang.  More stable are the bow holders which attach directly to treestands and hold your bow upright and firmly within reach.


Last, but not least, is a unique item many hunters feel are essential for a long vigil.  Used to hold liquid human by-products, urinals are considered necessary by many hunters.  Both men and women will find several compact styles available.  Be sure the one you choose to use has a secure, locking seal that will conceal your human odor until you're able to dispose of the waste.  These items should be re-usable and easy to clean.


As you prepare for your hunt, don't neglect to organize your gear for easy transport, simple and fast accessibility, and safety.  No one needs to be fumbling around with gear during their hunt.  Seek out items available to hold everything you need and you'll be more at ease and able to focus on making your hunt a successful one.