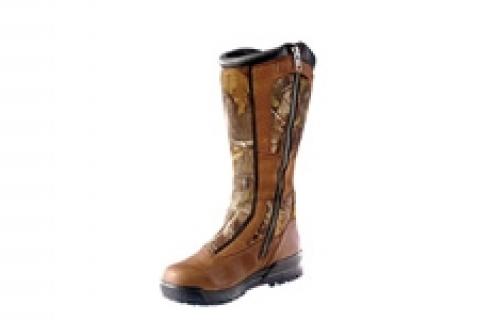 If you live in a part of the world where there are no poisonous snakes — count your blessings. For the rest of us, you better be prepared.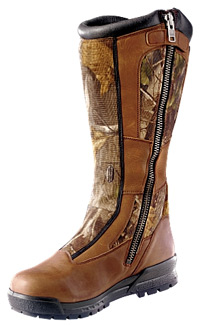 Snake boots, like these RedHead Bone-Dry 16" Bayou Zip Snake Boots, are ideal for hunting in snake country.
If you live in a part of the world where there are no poisonous snakes — count your blessings. For the rest of us, you better be prepared. Where I was raised as a kid we had a million snakes. On one water gap that we replaced in our fence we killed about a dozen. We didn't have rattlesnakes but we had copperheads and water moccasins (cotton mouths).


To help protect you against bites, let's talk about some snake protection for us hunters — even fishermen, since last summer my daughter and I had a snake jump in the boat with us while we were crappie fishing over in Oregon.


As far as I know we have four options for snake protection:


high top leather boots
stay home and play the piccolo
This article is a little unique in that on most outdoor gear I give it a good test before recommending it. On snake boots though, I'd have to walk in a few viper pits and let 20 or 30 chew on me. That's probably not going to happen! So we're going to trust the manufacturers testing procedures.


What I'll recommend is to try on whichever model of boots that you are looking at purchasing to see if they fit well. None of them are too comfortable due to the requirements to make them snake proof, but mine have a side zipper to ease in removal. If you're going to be walking all day you'll want to purchase a pair that is comfortable to walk in.  


Snake boots are a lot like seat belts. They don't do any good unless you wear them. My dad's cousin lived in New Mexico and was out building fence. Why I don't know but it was super hot and he'd cut the top off of his cowboy boots. Sure enough while building fence a rattler struck him. He said he knew right away what it was. If you're in bad snake country, don't cut the top off your boots and try to turn them into Go Go boots.  


I know when I turkey hunted with my brother and his kid down by El Dorado years ago they both wore them since we'd be crawling around in the brush all day calling turkeys and spotlighting varmints at night. He kills a lot of rattlesnakes on that ranch.


I'm going to assume that knee high snake boots will suffice for our snakes in the states. The only situation where I see they may not suffice is if you're climbing mountains or such situations where the snake will be elevated above you.


When I was a kid the old man that owned the ranch beside us had gotten bit on the hand years before by a copper head. He was picking up a rock and it struck him. So be careful when you're picking things off the ground. But don't necessarily think that you'll be safe if you kick over a log or flip it with a stick. It may just coil up as the story below will tell.


Unfortunately you can't feel safe if you're the back man while hiking. I've heard it said that the first hiker spooks the snakes so they coil up and then they strike the second man.  When I lived in Colorado there were a ton of rattlers out on the prairie and certain times of the year a guy in the plant would go out and catch nearly 100 after work. There were a couple of guys out there bird hunting and twice one of them came out of the brush and had a snake latched onto his pants leg dragging along. He must have walked in on snaky areas for this to happen to him so often is all that I can figure. Whatever he was doing — don't do!


One fall Chris Puckett and I ran over to Hell's Canyon to do a little deer hunting. We were walking down a canyon and Chris said, "Wow, look at that." I turned around and there was an 18-inch rattler in the trail. We'd both stepped right over it and he was wearing tennis shoes (Chris was wearing the tennis shoes, not the snake). Even though it was coiled up it hadn't struck. So not all snakes will strike you so you never know how many you have actually walked right by.


Used to when visiting out by El Paso we'd go snake hunting at night. It gets cool at night since it's a desert and snakes would crawl out on the black top to get warm. One time we pulled over to get one and the light went out. It finally came back on and he was crawling towards me and only about 2 feet away. The light came on and I shot outta there. Snake boots would have been nice for those midnight hunts.


As we wrap up remember: Getting into the outdoors is a blast but a bad snake bite could turn an otherwise good day into a bad one real quick. Be careful and be prepared.