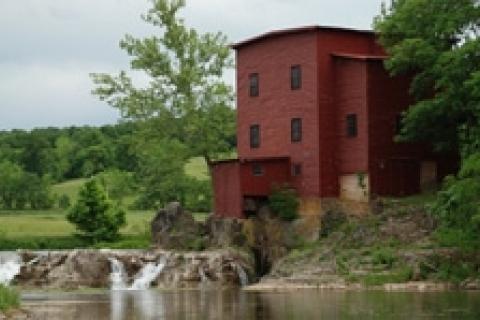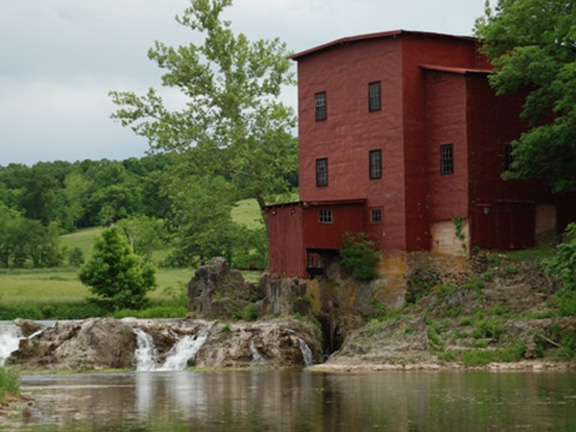 Dillard Mill, near Viburnum, Mo., is a perfect picture waiting to be taken. The bright red mill sits on a short rock bluff overlooking the clear-flowing Huzzah Creek in Crawford County.
Dillard Mill is one of the best preserved water-powered gristmills in Missouri. Visitors may still experience the sights, sounds and smells of the mill in operation, grinding grain into flour as it has for over 100 years.
Dillard Mill is actually the second mill to stand at this site. Wisdom's Mill, the first mill, was constructed in the 1850s, prior to the Civil War. Owners blasted a hole in a rock wall along the Huzzah, allowing more water to reach the mill, changing the course of the small stream.
Joseph Dillard Cottrell and his brother, James, owned Wisdom's Mill from 1881 to 1889. The small community grew, acquiring a post office in 1887.  
The Cottrells sold to Andrew Jackson Mincher in 1889. The mill burned a few years later. Emil Mischke, a Polish emigrant, bought the property in 1900 and constructed the current mill in 1908.
Mischke modernized the mill, utilizing steel roller mills instead of the old buhr stones for grinding grain. He also installed a turbine to power the mill.
Over a decade later, the aging Mischke sent for a mail order bride, who did not adjust well to the rugged Ozarks lifestyle. She persuaded him to sell the mill and move to California.
A new owner, Lester Klemme, came along in 1930. He milled the usual livestock feed and flour, but used his entrepreneurial skills to open Klemme's Old Mill Lodge. Overnight guests could fish, swim and dine for $7 a day in the beauty of the Huzzah Valley.
The lodge survived into the 1960s. The L-A-D Foundation of St. Louis bought the property in 1974 and leased to the Missouri Department of Natural Resources in 1975.
Dillard Mill is one of the most picturesque spots in Missouri, offering visitors a glimpse of the past. Hiking among oak-hickory and pine forest is available along with picnicking and wade fishing. An ultra-light spinning outfit combined with small jigs and spinners is the perfect setup to catch smallmouth bass and sunfish.
Travelers often combine a visit to Dillard Mill in a day trip to nearby attractions including Elephant Rock State park and Johnson Shut-ins State Park.