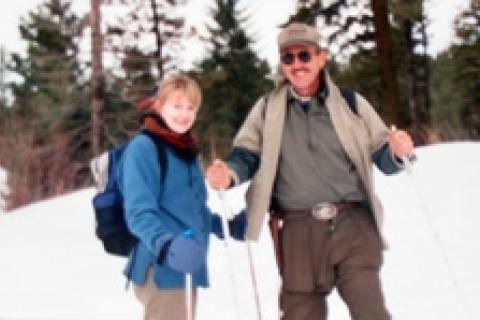 It's winter and it has been snowing all over the country and to some degree a lot of outdoor activities have come to a screeching halt. What's a guy to do? Duh, go snowshoeing of course. Now's a good time to get out and see the mountains while they're covered with snow.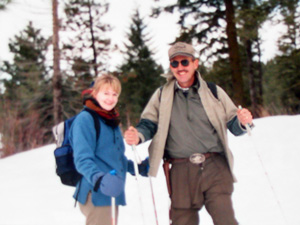 The author and his wife Katy in the mountains on a snowshoeing excursion.
You have a lot of options. You can throw in a call and do a little varmint hunting or you can invite a group of friends to go on a hike. Throw in a coffee pot; build a fire; heat up some hot chocolate; and roast marshmallows. Or you can just go on a hike to get some exercise.
I've always thought it a lot of fun to go with a group of friends. I remember one year three of us couples went and had a blast. In case someone toots out on you, build a fire and kick back and let them rest up. You're not on a hardcore elk hunt. You don't have to pack a lot of water to make a pot of coffee or hot chocolate, just melt some snow.
On one trip, I literally got back to our rigs and the bottoms of my old school rawhide snowshoes gave out. The whole bottom had rotted out and fell apart. I love the old school rawhide snowshoes, but it would cost more to repair mine than it would to buy a new set. So I bought some of the new aluminum ones. I'm not saying that I like them better, but they do seem to be lighter, maybe sturdier and cost less. So you have a couple of options as to what kind to buy.
There are different styles available according to what your activities are going to be. For in the woods you'll want the shorter, fatter bear claw type. For out in the prairies you may want to look at the longer thinner ones.
The bindings will be somewhat like what they use cross country skiing. Your foot can tilt up as you walk. On my old rawhide ones I had stout rubber bindings that I stuck my toe in and it pressed against the back of my heel. Now I believe that most of them strap on your feet.
You will probably find it helpful to use a pair of ski poles to keep your balance. Especially if you're snowshoeing in the mountains where you'll encounter uneven surfaces. They make adjustable length poles now so you can fit them exactly to your height.
So with the recent spat of snowstorms hitting us, why set around and whine? Go grab a pair of snowshoes at your local Bass Pro Shops and hit the snow. It's a good excuse to get outdoors and it may just help you lose a couple of those unwanted pounds.