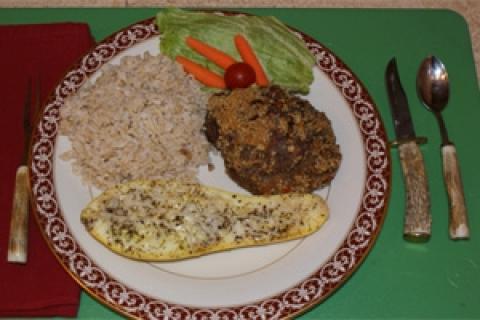 This Goose recipe stuffed with fig, cream cheese and pecans can be fancied up for the most elegant dinner party, or camped down to impress the toughest critics at the lodge. It should take one hour from start till time you serve this delicious meal. The crunchy ingredients along with the sweet figs complement the Goose without overpowering this delicate fowl. I baked this meal in the oven, but do not be afraid to wrap in aluminum foil and grill. Either method you chose, do not overcook!


My better half of over thirty years is a Registered Dietitian and Certified Diabetes Educator, so over the years I have absorbed much from Dawn about cooking and nutrition. Knowing the nutritional content of what you eat is important, so good or bad, I calculate my daily intake. It seems that whenever I am in a weight loss mode or trying to improve my blood work, documenting what I eat every day helps keep me on track.  For this type of meal the calories are very respectable, and I would consider a healthy choice.  (See below for calories for the entire meal.)


This Specklebelly Goose was harvested while visiting BMW Hunting in Biggers, Arkansas, on an Arkansas Waterfowling expedition.



Tip: Shop waterfowl hunting gear at Bass Pro Shops
Fig Stuffed Specklebelly Goose Breast Ingredients
This recipe can be modified in a number of ways. You can make substitutions for the figs like peaches, cranberries, apricots or dates. Walnuts are another nut that works well with fowl.


1 Whole breast from a medium sized Goose. Filleted and deboned into two pieces. Remove skin.
4 Tbs. Chopped Onion
4 Tbs. Chopped Red Bell Pepper
6 Tbs. Bread Crumbs (I used crushed Texas Toast croutons salted and flavored)
2 canned whole Figs or 2 Tbs. Fig Preserves
2 Tbs. Cream Cheese (I used Philadelphia Honey Nut soft cream cheese spread)
8 Roasted Pecan Halves
2 Tbs. Olive Oil
Salt & Pepper
Toothpicks


Preparation
Preheat your oven to 350 degrees.


Soak your meat in salt water brine overnight. You may use plastic containers, crocks, stainless steel bowls, and resealable bags.  Any non-corrosive container works fine. 1 cup of salt per gallon of water.


---
---
Lay the 1/2 Goose breast flat and use a fillet knife to cut 1/3rd deep across the breast stopping 1/4-inch before completing the cut. Lay open the breast and cut the other 1/3rd deep slice stopping 1/4-inch before completing the slice. Spread the breast meat out into a large slab approximately 1/4-inch thick.


Spread the 1 Tbs. of cream cheese on 1/3 of the breast.
Add 2 Tbs. of chopped Onions and 2 Tbs. of chopped Red Bell Pepper over the cream cheese.
Sprinkle 1 Tbs. Bread Crumbs over chopped Onions and Bell Pepper. (Save remainder for outside.)
Add ½ of the figs. (Optional: Save remainder to garnish)
Chop or crush ½ of the Pecans and add over the bread crumbs. (Optional: Save remainder to garnish)
Fold the remaining breast sections over the stuffing and add toothpicks.
Use olive oil to grease cooking sheet and the outer surface of the stuffed breast.
Spoon on bread crumbs, pecans, and remaining onions and bell peppers.
Salt & Pepper to taste: Be careful not to over salt. (Croutons and roasted nuts may be salted)
Place uncovered in preheated oven at 350 degrees and cook 30 minutes per pound, or to 165 degrees internal temperature. (Do not overcook! The meat is on the outside and only ¼ inch thick. This dish was cooked for 30 minutes)


Serve With...
The smartest garnish would include pecans and fig.


Served with rice and baked squash, along with your favorite red wine.


Squash is prepared by cutting in half, and making diagonal slices in the meat being careful not to cut the outside. Add a pad butter, cheese and spices to taste. Bake with goose for 15–30 minutes depending on how crunchy you like your squash.


This Recipe was created by Sam Hall of Global Outfitters Outdoor University. This and other wild game recipes were inspired by 20 years of hosting the Wild Beast Feast in Huntsville, Alabama, where kindred spirits of the outdoors shared their cooking talents for wild game, fish and fowl, with friends and family.