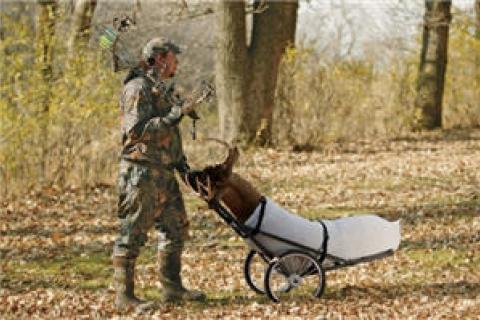 While properly field dressing game is a key element in the race-against-the-clock effort to preserve your harvest, a hunter's work is not over once this has been done.
Just as important as properly field dressing your game harvest is effectively transporting game back home after field dressing is complete.
Tip: Shop Cabela's Deluxe Game Cart
Don't let your hard work this hunting season go to waste as a result of poor transit practices. Check out our tips below for safely getting game from Point A to Point B:
After field dressing, transport the carcass absolutely as quickly as possible to refrigeration.
 
Note that heat not only affects whether the meat is safe or spoiled, but it can also affect the taste of meat that hasn't spoiled. Keep it cool to preserve both the overall integrity and the taste of the meat.
 
If outdoor temperatures are anywhere at or above the high 40s or you're transporting your harvest a long way, fill the cavity with bags of ice to keep the meat cool.
 
Do not transport your harvest on the hood of a car or on top of a vehicle; the meat will be exposed to the heat from the engine and/or the elements, which will affect the taste of the meat ... or cause it to turn entirely.
 
Transport dead animals out of the elements – preferably in a trailer, enclosed truck bed or trunk. Use a dropcloth or tarp to keep the vehicle clean. With this method, your harvest will stay both cool and clean.
Note: To make efficient work of your field dressing in order to get on to transporting your harvest more quickly, try using a pocket guide to field dressing game with step-by-step instructions , tool checklist and anatomy.
For more hunting tips, be sure to check out the resources on the Bass Pro Shops 1Source website, and stop by in person at any one of our Bass Pro Shops store locations for face-to-face discussions with our passionate and knowledgeable on-site hunting experts.