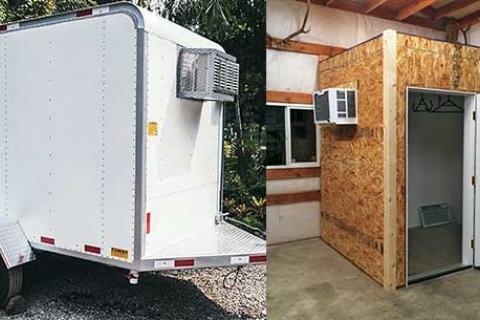 A DIY Walk-Cooler Is Easily Achievable, And
At A Fraction Of The Cost You'd Expect
For decades, walk-in coolers have required heavy, expensive and inefficient refrigeration units – a barrier that has kept thousands from being able to justify owning one. That barrier has been torn down by the innovative CoolBot® controller. This simple temperature-control device has completely revolutionized the industry by allowing you to use a standard window-mount air conditioner to refrigerate your walk-in cooler. Now you can save thousands of dollars on a walk-in cooler, and you'll save even more thanks to your A/C's increased electrical efficiency compared to standard refrigeration units. Over 35,000 hunters, farmers, florists, breweries and other users have made the switch to CoolBot.
ADVANTAGES OF COOLBOT AND YOUR OWN WALK-IN COOLER: 
Build your own walk-in cooler in a shop or garage. Outfit an existing cooler. You can even build a portable cooler using a standard enclosed trailer, so whether you're at home or on the road, you'll be able to keep your harvest preserved and even obtain the benefits of aging wild-game meat. That means no more worrying about spoiling meat or fitting everything in a standard portable cooler – two of the greatest problems faced by hunters. Plus, CoolBot works equally well in hot and cold climates – it's the perfect option for hunters across the nation.

The best part of owning a CoolBot is the unmatched ease of use. With a properly insulated
room, CoolBot's simple controls let you dial in a custom temperature down to 34°F without having to worry about freezing up the fins on your A/C unit. If you don't own an insulated room or trailer, building one is simple – CoolBot even provides multiple guides for DIY walk-in coolers. Once you're up and running, there's virtually no maintenance required at all – just set the temperature and let CoolBot do the rest.

Many hunters dream of having a walk-in cooler. Make one a reality with CoolBot, and enjoy the benefits of hunting earlier, more often and in warmer temperatures.