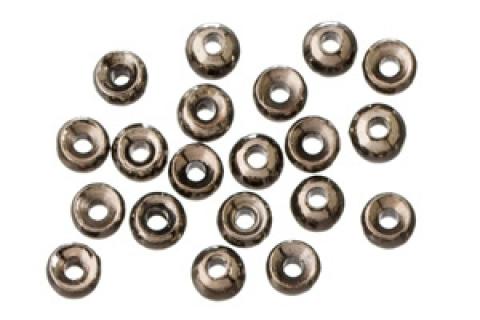 If you were to look at my spring, summer or fall fly boxes you would notice that 95 percent of the flies that I use have beads. Whether they are shiny (gold, silver or copper) or natural (black, olive or brown) colored beads, these small additions to flies have a huge impact.
First and foremost beads add much needed weight to flies. Getting flies into the strike zone can be a challenge and beads are the best way to get flies down to where they need to be. Different types of beads, like tungsten, are heavier than others so if you are planning on fishing fast swift waters then this should be your first choice. Beads also provide shine or attractant (if painted with hot colors) that grab a fish's attention even from a far distance. In churned up rivers or stained waters, this attractant quality can be the difference behind hooking up or not.
Choosing the right bead for flies is very important. The wrong sized beads will either not fit over the hook or will be too big and bulky to ever look appetizing to fish. Beads are in most cases sized in millimeters or inches. To the novice fly tier, these measurements will not mean much, so having the hooks in hand while looking at the beads will help you pick out the right size. If you want a reference guide then the table below will help you with the most used bead/hook sizes.
| | | |
| --- | --- | --- |
| Hook Size | Bead Size (Inches) | Bead Size (Millimeters) |
| 4-8 | 1/4 | 5 MM |
| 6-10 | 3/16 | 4.5 MM |
| 8-12 | 5/32 | 4 MM |
| 10-14 | 1/8 | 3.2 MM |
| 12-16 | 7/64 | 2.8 MM |
| 14-18 | 3/32 | 2.4 MM |
| 16-20 | 5/64 | 2 MM |
| 20-24 | 1/16 | 1.5 MM |
With different curved or nymph hooks you might have to de-barb the hook to get the bead to slide around the bend. All beads will have two different sized holes so make sure that you are fitting the bead onto to the hook small hole first. This way the larger hole will be second and allow a bit more play to get around the hook barb. Fly tying beads can be fit for a wide range of hook sizes and shapes. If you are experimenting with beads, start by using the hook size from the chart above on the low end of the range. Once you get a bead on a hook make sure you push it up to the back of the hook eye. Wrap thread or add additional weight to the hook shank and slide it into the bead to hold it in place securely.
Adding beads to your flies can expand your fishing opportunities by adding color, weight and shine. Be sure to tie a few of your favorite flies with different beads to have all the weights and colors to meet your fly fishing needs. You never know when the right opportunity presents itself, and a well-stocked fly box can save a slow day of fishing.