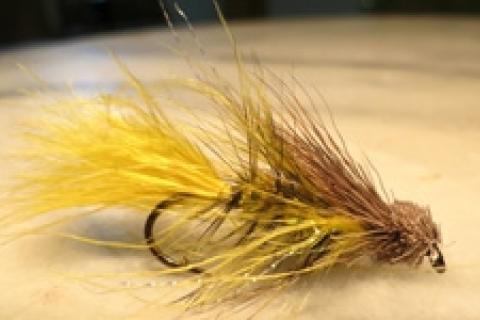 Fly fishing for smallmouth bass is one of my favorite summertime activities. My only problem is deciding whether to fish them topwater or subsurface. Topwater bass fishing is definitely exciting but running a streamer with a sink tip line down the slope of a rocky drop-off or shoal is so effective it's hard to pass up.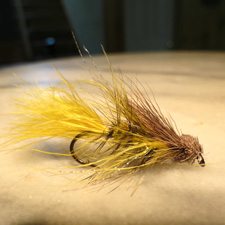 This wooly muddler lends itself well to topwater and subsurface fishing, often in the same cast.
The good news is I think I found a solution that suits me — and I call it splat and pull fishing.
I discovered it after tying on a wooly muddler onto an 8-foot level leader of 8-pound fluorocarbon that's attached to a sink tip line. A wooly muddler is, as the name implies: a hybrid of two great streamers. It's basically a wooly bugger tied behind a muddler minnow head.
This fly, or other buoyant streamers like it, are required for this technique.
Essentially, I position my canoe about 35 feet away from the top of a rocky drop off or shoal, then I cast my wooly muddler so that it hits the high point of the structure with an audible splat.
This is the topwater portion of the program.
You let it sit until the ripples die-off as you would any topwater lure and then you give it a twitch or a pop. Meanwhile my sink tip line in descending in the water column along the slope. I typically get one or two more topwater twitches, pops and chugs. And sometimes I get those wonderful topwater strikes.
By then, the sink tip line has descended a few feet. So if I haven't got a strike up top, it's time to start a steady retrieve of short strips back to the boat. Now the fly is submersed and following the sink tip line. It needs to be a steady retrieve at first until you remove the hinge in the line, then when you have more direct contact with the fly, you can vary the retrieve and experiment.
This end result is that method allows you to fish the surface for the start of every cast and then finish it off by fishing deeper along drop-offs.
Sometimes the fish take the fly in an explosive surface grab; often they'll take it as it swims deep over the cover. If you let your line sink enough you can work from the surface right to the bottom.
I'm sure I'm not the originator of this technique. I imagine it's been used in different incarnations since sink tip lines were invented. Still, it's nice to have discovered something that works so well all on my own.
That's part of the great fun of fly fishing. It causes you to think a little about how flies, rigging and technique all work together to defeat a problem. In the next little while I'll try to develop and experiment with patterns that work better with this technique as well as better ways to rig.
I'll be on a bass lake tomorrow again. I'm sure the fish will provide input too.