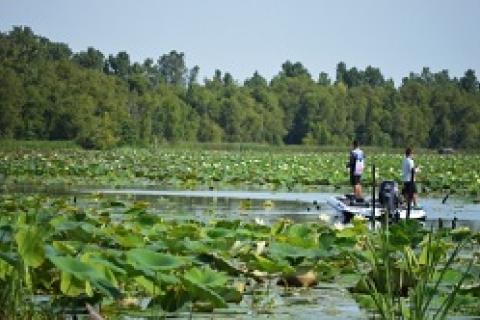 Indianapolis, IN is known for many things. A speedway, the NBA Pacers and of course the NFL Colts, but one person who may be overlooked is Plano/Frabill pro Jacob Wheeler. In the world of pro bassing, Wheeler is incredibly young. He turned 23 in September. He isn't as conspicuous as other youngsters in the tournament world such as Rapala pro Brandon Palaniuk, but Wheeler is already a champion. In fact, he has won two of the most coveted events in all of competitive bass fishing.
The All-American and the Forrest Wood Cup. Regardless of age, Wheeler deserves to be ranked right up there with some of the best. Wheeler in the thick stuff at the 2013 FWC (Joel Shangle) Passion is key for Wheeler. "I've had the passion for bass fishing since I was a little kid," said Wheeler. "I fished in my first tournament when I was eight. A lot of little kids have dreams of being fire fighters, the President, police officers. By the time kids are 14 or 15 they forget their dreams and focus on other things. I never lost the passion or sight of my dream. "From the ages of 14 through 18 I won several junior state championships in bass fishing. I've never wanted to be anything else but a pro bass angler." High school graduation was Wheeler's turning point.
"When I finished high school, the desire to fish as a professional angler became even stronger for me," said Wheeler. "My idea was to start at the BFL level and progress from there. I spoke with my parents and told them I needed about two years to see if this could work out. If it didn't, I would go to college.
They agreed. "My thoughts were if I did it, then I go into competitive fishing without excessive debt. I knew the passion was there and if I completed college first I'd come out with $30,000 or more in debt and have that financial pressure hanging over me. The first BFL I entered, I won." From winning his first BFL event to the All-American in 2011 and the FLW Forrest Wood Cup in 2012 to finishing in the Top 5 at the Forrest Wood Cup in 2013, Wheeler's gamble to fish and wait on college has paid off.
With all of his early success Wheeler stays grounded thanks to family and friends. Jacob Wheeler (Joel Shangle) "I just bought a house," said Wheeler. "I plan on staying in Indianapolis. My family and friends are here. These are the people I want to spend time with when I am not on tour. I still fish the Tuesday night tournaments around here when I am home. "I fish around Indianapolis a lot. Lots of different lakes and rivers. All styles of bass fishing can be done here. It is good to be here."