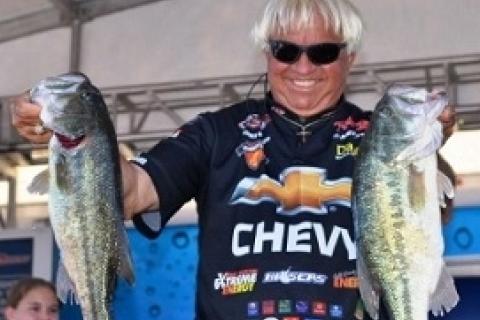 Jimmy Houston is fishing in the FLW Tour Championship! Yep, the world famous bang-wearing blonde angler is not just a TV show host folks. He is the real deal and has been for decades. A two-time B.A.S.S. Angler of the Year, Houston is a legit legend. So, why is there surprise that he qualified for this championship? Well, he never made it before, but Houston n
ever put in a full season on the FLW Tour to give it a go. This year, he fished all six events for the first time and qualified.
Houston is not just satisfied with making the cup. He is going for the win.
"I'm hoping to be too busy fishing to be able to talk to you guys at the Forrest Wood Cup," said Houston. "It is pretty exciting to make the championship. I've only been fishing four FLW tournaments per year over the last several years based on my Chevy contract. This year I decided to do all six.
"It was pretty rough, but I really only had one bad day and it was during the last tournament. That dropped me from 18th place to 35th. This will be the first time I've ever fished for $600,000 and the Cup. I want to win it. Plus, my wife would sure enjoy the money."
Houston's confidence is at a very high level after a few days practicing on the Red River in Shreveport, Louisiana, the site of the 2013 Forrest Wood Cup.
"I'm not nervous or anything like that," said Houston. "I'd sure like to win the title. That is something you'll have forever. I was going to do a spot for an outdoor shopping channel and I missed it. They had Ed "Too Tall" Jones on the show. He was with the Dallas Cowboys and won a Super Bowl years ago. They are still talking about it today. That's what winning a championship is. It can never be taken away from you.
"After a few days practicing on the Red River with my wife Chris, I have a lot of confidence heading into the tournament. Since this is the summer, there shouldn't be anything drastic happening to the river. There are not likely to be floods or hurricanes. It'll probably be harder fishing than when we were there.
"One day we caught 40 keepers, but only three were over two pounds and the largest was just over three pounds. We did catch a few larger fish there, too. I expect everyone should be able to catch a limit. It won't be won on one spot. I have three good places where I can get bigger fish. Bigger meaning 2-pound plus bass. If you can catch a 5-pound bass every day with your limit you will be fishing on Sunday."
Will Houston retire if he takes the Forrest Wood Cup title home?
"I thought about retiring if I happen to win the Cup," said Houston. "If a young guy wins it could change his career, but it would have no effect on my career. It would be a great way to go out as the champion. I think it would be very difficult for me to quit. I really love fishing tournaments. Practicing with my wife at each event is something I really enjoy. I don't believe I would quit. I love to play the game."