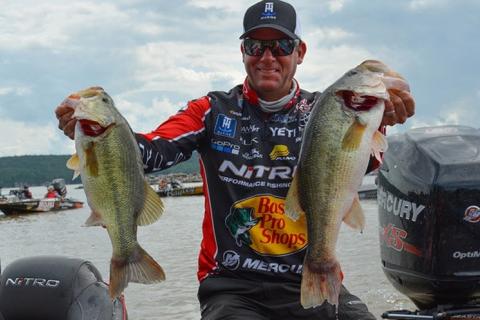 For any student of bass fishing, they're well aware of the place in history held by the French Fry worm. Once upon a time, it was a staple in any anglers' boat whenever bass were being stubborn.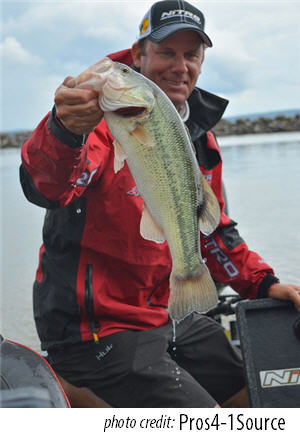 Today, the bait is still large enough to attract big fish yet just the right size to finesse smaller fish into biting.
History Lesson on the French Fry Worm
A soft plastic stick worm shaped like a crinkle-cut French fry, Kevin VanDam remembers the bait fondly having fished it early in his career when he used to fish a Carolina-rig to trick pressured or uninterested bass into biting.
The plastic lizard was long known as the bait often attached to the business end of a Carolina-rig but sometimes bass grew wise to it. Other times, they just weren't in the mood to chase a bait with writhing appendices.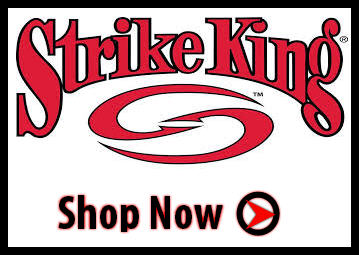 "The French fry would really shine compared to a lizard because it has a much subtler action than a creature bait," VanDam said.
Skipping boat docks with an unweighted French Fry or finesse fishing it on a split shot rig also proved to be productive.
For anyone that has been following competitive bass fishing, the Carolina-rig is still in play. It might not always win a tournament but it can put key fish in the boat. This lead some of the Strike King Pro Staff to get requests of their own version of a French Fry-styled bait be added to the Strike King product line-up.
What Was an Old Fishing Favorite is Made New Again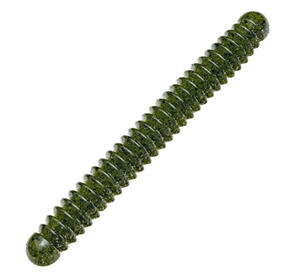 When the re-design process got underway, VanDam was quite particular with the changes he wanted to see in the Strike King KVD OPT Supa Fry by the time it was finished.
"We made it a little bigger and beefier so that you could fish it unweighted. Especially when you figure in the salt content, it adds a good bit of weight to it if you are fishing it as a weightless finesse bait rigged wacky-style or Texas-rigged," VanDam said. 
It was important to him that the bait have a ribbed body and a flat belly so that it fell just right.  "One of the things we wanted to do was make it ultra-soft like a Dream Shot worm soft bait - always quivering an moving," VanDam said. "With that flat base, that was most important to me because it ads so much action to the bait the way it falls and the water displaces against it when you are rig the bait different ways."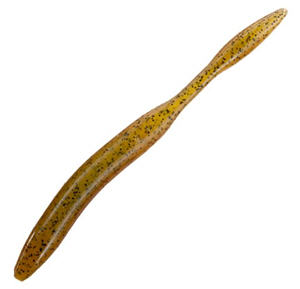 Strike King utilizes Open Pour Technology (OPT) which allows for the creation of unique 3-colored laminates often associated with hand-poured worms. Green Pumpkin, Morning Dawn and Bluegill are his favorite colors.
With Fishing Bait, Versatility is Key
Regardless of whether the water is clean, stained, or dirty, the beauty of fishing a bait like the KVD OPT Supa Fry is it is extremely versatile. VanDam believes the bait performs best when the water has 18-inches of visibility.
Morning dawn is a color that works great in stained to dirty water while KVD prefers green pumpkin patterns in cleaner water.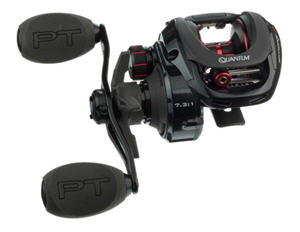 VanDam also recommends that angler rig the Supa on a Texas-Rig with an 1/8- to 3/8-ounce slip sinker as a finesse pitching bait as you would a soft-plastic stick worm. The action is unmistakeable since the plastic is incredibly soft. He'll fish it on a 7-6 medium-heavy action Quantum Tour KVD casting fishing rod paired with a Quantum PT Smoke S3 Baitcast reel spooled with 14- to 17-pound Bass Pro Shops XPS Fluorocarbon fishing line. The added line allows him to move a lot of line on the hookset.
Rigged on a lighter sinker, the rig will glide more will a heavier sinker will cause it to dart like a tube jig would. If you rig the hook further down the bait, that will impart a totally different fall.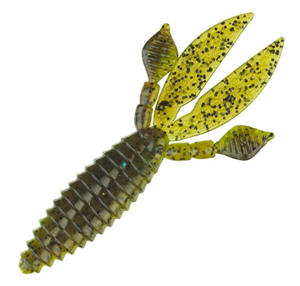 In thicker cover, once he's gone through an area with a Strike King Flipping Rodent, he often rigs a Supa on the same set-up to try to coax any of the remaining fish into biting.
The natural design of the Supa lends itself well to Neko-rigging; don't hesitate to insert a nail weight like the Bass Pro Shops Tungsten Nail Weight in the head, middle, and tail of the worm. Depending on the weight of the nail used, either lead or tungsten, the Neko-rig could be fished in both shall and deep water.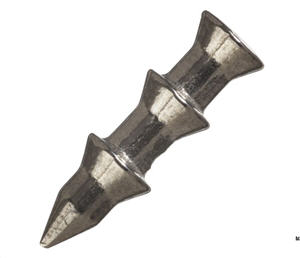 Fished on a shaky head, it offers the ultimate compliment when finesse fishing is required.
His favorite fishing rod and reel setup starts with the 7-4 medium action Quantum Tour KVD spinning rod paired with the Quantum Smoke S3 spinning reel spooled with 10-pound Bass Pro Shops XPS Hyper Braid fishing line with a leader of 8-pound Bass Pro Shops XPS fluorocarbon line. 
He'll opt for a shorter rod when skipping baits under boat docks and overhanging targets.