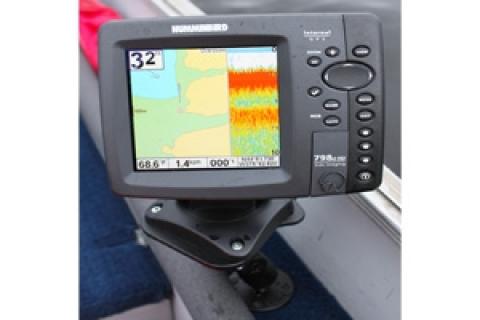 A common struggle when rigging a fishing boat is where and how to mount your marine electronics. Space is often an issue for small craft owners and the mounting hardware standard with most electronic units often comes up short. A simple — and inexpensive solution — is a RAM electronic mounts. Here's why.
Variable Viewing
RAM mounts are easy to install and can be mounted just about anywhere. Due to their small base, yet elevated arm, they can be rigged in small and confined spaces, allowing you to truly outfit your boat exactly the way you would like to.
Elevated arms offer the benefit of 360-degree rotation, often above gunnels that previously got in the way. There are no preset "tilt" settings, allowing the user infinite and variable customization.
The ball and arm socket holds units securely, while isolating harmful shock and vibration. A big plus for those that fish big water.
Unlimited Options
RAM mounts are manufactured to fit most units. But fish finders aren't the only option. Models are available to hold cell phones, GPS units, as well as stabilize trolling motors. This allows full customization, with a clean and functional look. Units can be positioned exactly where you want them to be at all times — yet can easily be altered by simply using a screwdriver.
The Right Fit
I discovered RAM mounts in 2011. As an operator of a small boat, mounting onboard electronics was always an issue. A confined space only allowed one way of rigging, and in order to make it work, a home-made wooden bracket was constructed in order to view the screen of my fish finder head on.
The addition of a RAM mount negated the wooden bracket and allowed me to fully rotate my unit above the gunnel, allowing it to be positioned for perfect viewing. I can't think of a better mouse trap.
Give the line of RAM mounts a try. Rigging your boat has never been easier.