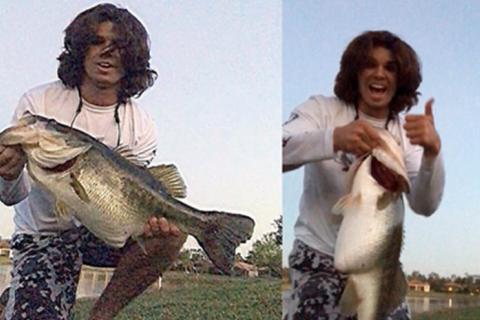 Congratulations to Dominic Montalto, a 19-year-old Florida College student who caught a near record size bass using a Johnny Morris Titanium 8 heavy action rod with a Bass Pro Shops Pro Qualifier Baitcast reel and a XPS Z9R Perch Swimbait lure in bluegill color.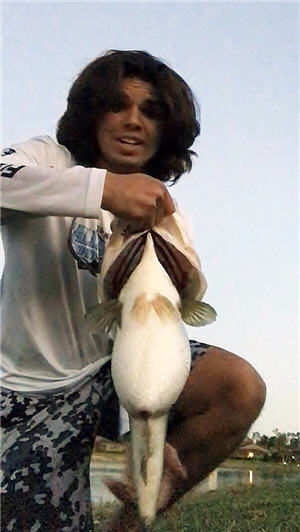 The Florida Fish and Wildlife Conservation Commission's (FWC) TrophyCatch program recently announced its new Season 5 heaviest catch leader – Dominic Montalto with a 16-pound, 12-ounce largemouth bass caught in a private pond in Estero. His bass is one of the biggest bass caught in recent history and was close to breaking the official state record. Montalto's bass comes close to the current certified state record of a 17-pound, 4-ounce largemouth caught in 1986.
"When I first saw the fish, I thought it was a log with a volleyball under it – until it moved," said Dominic. "Once I realized it was a big bass, I started targeting it and just kept trying until it took the bait." Dominic Montalto
One of the craziest shapes we've seen on a big bass. Here is the full release from MyFWC.com.

TrophyCatch is a partnership between FWC biologists, anglers and fishing industry leaders, such as Bass Pro Shops, that rewards the catch, documentation and release of largemouth bass weighing 8 pounds or heavier in Florida. In order to be eligible for prizes, anglers are required to submit photos or videos of their catch to TrophyCatch.com, showing the fish's weight on a scale, before releasing it back into the water. FWC biologists use TrophyCatch data for bass research, to make informed decisions about the management of Florida bass fisheries, and to promote the catch-and-release of trophy bass.