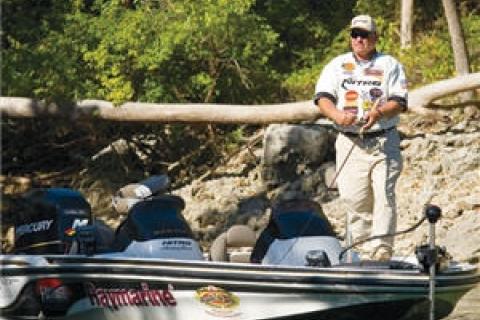 Over the years, bass fishing has become a more technical game and each year seems to have even more innovative fishing equipment to use and new techniques to try. Here are five of my must-haves for fishing. Hope these help you as much as they have helped me be a better angler.


1. Great Electronics: That is why I use the Raymarin E Series fishfinders with its hybrid touch, as it gives you awesome 3D graphics and instantaneous chart release. And with the chirp technology, you get the best bottom reading by far of any unit on the market.


2. A Durable and Quite Trolling Motor: My MotorGuide Tour Edition trolling motor with the Verimax. I can fish longer and faster with my MotorGuide than any other motor on the market. It has the greatest battery life going, and that is a must on the bass trail.


3. A Tough and Reliable Performance Bass Boat:  My NITRO Z8 bass boat with my Mercury 250 Optimax. I get there faster and smoother, burning less gas than any other combination on the market. My Z8 fishes like a dream. It's one of the best fishing boats on the market.


4. A Realistic Super-soft Plastic Bait: Just take a peek into your favorite tournament angler's tackle box, and start counting the Zoom bags. I want every Zoom bait made because there are more fish caught on Zoom baits than all other lures put together, and I don't want to be left out of the ballpark. Most of my Zoom baits are going to be green pumpkin.


5. Hight Performance Rod and Reel: I need a rod that transmits vibrations instantly and is lightweight with great hook-set power. Add a lightweight reel with dual braking system and carbon fiber recurve handle you've got the perfect tournament set-up. My fishing combo of choice, the  CarbonLite Bass Pro Shops rods and reels.  I'll use Bass Pro Shops fluorocarbon fishing line, and now I'm ready to kick some bass.


by Woo Daves