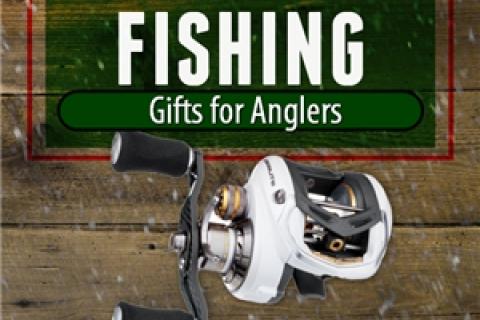 The signs are pretty clear if you have an addicted angler on your Christmas list. This time of year, he or she goes around faintly singing "… jigging's swell … jigging's swell… " and "… a largemouth in a live well …"  The dead give-away is a Christmas tree decorated with lures and monofilament rather than ornaments and garland.  Here's a selection of gifts from Bass Pro Shops (which the addicted angler refers to as "Santa's Toy Shop") sure to further fuel their fishing fever.
Bass Pro Shops Johnny Morris Carbonlite Baitcasting Reel
Finicky as Santa Claus is about checking his list, Bass Pro Shops® founder Johnny Morris is even more so about fishing gear – especially if he puts his name on it.  So rest assured the Bass Pro Shops® Johnny Morris Carbonlite baitcasting reel is rugged, reliable, and precision engineered. It's built to carry on a legacy of performance.  This tournament quality baitcaster is the total package of bullet-proof performance, all-day casting comfort, refined finesse, and raw power. The features of the Bass Pro Shops® Johnny Morris Carbonlite reel fit the bill as naturally as it fits the angler's casting hand. The list of fish-catching features is longer than Santa's list of good kids. About $129.99.
Bass Pro Shops Pro Qualifier 2 Spinning Reel
Got an angler on your list who loves to brawl with bass or tangle with trout? Bass Pro Shops® Pro Qualifier Spinning Reels is in their corner for every fight. Even more importantly, the reel's features help fight things anglers hate, too — line twist, line wear, and jerky drag.  With Mag Spool Technology™, the forged aluminum spool on each Pro Qualifier reel is 30 percent wider than standard spinning reels. The oversized roller lays down more line with each revolution.  Fewer turns mean less twist and better line lay for longer casts and extended line life. Top-of-the line bearing and drag systems control big fish with smooth, consistent, flawless pressure. And each Pro Qualifier also comes with a free, braid-ready extra spool that permits super line to be tied directly to the spool – no backing necessary. About $79.99.
Offshore Angler Frigate 2 Spinning Rod and Reel Combo
Do the anglers on your shopping list fish saltwater where the big, toothy species lurk?  If so they need the toughest, most battle-proven tackle going.  That's the Offshore Angler® Frigate® Spinning Rod and Reel Combo.  The reel and rod are perfectly paired for durability, power, and comfort and have been battle tested by charter boat captains around the globe. They say it's one of the toughest and smoothest combos going for saltwater angling, but it comes at a price that still lets you buy lots of stocking stuffers to go with it. About $99.99-$109.99.
Bass Pro Shops Stalker Backpack
Do your beloved anglers head to the most remote locations for their fishing adventures? The Bass Pro Shops® Stalker™ Backpack Tackle System ensures organization and easy carrying for anglers on the go. Whether they access secret fishing spots via a white-knuckled ride in a bass boat, a silent sunrise paddle, or a hike to a remote mountain lake, the Stalker™ Tackle Backpack makes it easy to arrive secure and organized. It's large insulated upper compartment keeps even keeps breakfast or lunch hot or cold. A lower compartment can hold up to five 360 utility boxes.  About $64.99.
Ascend FS10 Sit In Angler Camo Kayak
Is there any angler on your list who seems to have the proverbial "everything?" Well maybe he or she hasn't experienced the excitement of fishing from a kayak.  There's nothing like battling big fish at water level from a kayak propelled solely by your own muscle and willpower.  The Ascend FS10 Sit In Angler Kayak is packed with features anglers demand for catching fish, complete comfort, and safety on all waters. Each 'yak includes an adjustable anchoring system for precise positioning in any lake, river, or stream. There's no doubt your special angler would be thrilled to unwrap a kayak, but even though it comes in camo, you're real challenge will be hiding it under the tree. About $569.99
Bass Pro Shops 36-Piece Stik-O Kit
Thoughtfully chosen stocking stuffers are always a hit on Christmas morning, so what if you came up with more than 200 stocking stuffers, essentially for the price of one?  How big a hit would you be? The Bass Pro Shops Stik-O Kit is a fish-catching bait system that casts like an arrow even when rigged weightless.  Twitched in front of even a finicky bass, hang on for explosive results. Each bait is loaded with salt and infused with exclusive 8up™ scent attractant.  This 36-piece kit, all organized in its own tackle box, includes everything your anglers need to head to the lake and start haulin' in the bass. About $6.49.
Bass Pro Shops Flex Track LED Light Kit
For the addicted anglers on your list, there's never enough time to fish.  Help them extend their fish-catching time on the water with the Bass Pro Shops Flex Track LED Light Kit. Perfect for any boat or fishing dock, these marine-grade LED light strips illuminate a large area with custom light. Choose from ultraviolet white, white LED, blue LED, and blue/white options. The strips can be cut to custom length for any application and adhesive backing allows the flexible strips to mount nearly anywhere. About $16.88 - $22.99.
 
White River Fly Shop Fly Tying Kit - Trout Tying
Fishing for trout is a special obsession. It consumes anglers not only while they are at the river, but at home and work as well. You'll never distract the trout anglers on your list, so you might as well encourage them. The White River Fly Shop Kit® provides everything to tie the flies they need to catch more and bigger trout – with the great sense of accomplishment of having done it themselves.  Exclusive to this complete kit is a free instructional DVD featuring renowned fly fisherman Lefty Kreh with materials and instruction to tie Wooly Boogers, Pheasant Tail Nymphs, Gold Ribbed Hare's Ear Nymphs, Elk Hair Caddises, Adams, and Flying Ants.  About $109.99.
Bass Pro Shops 100MPH GORE-TEX Rain Jacket
No Christmas gift says, "I love you" more than one that provides years of comfort and safety. So the perfect gift for the hardest core fisherman in your life is the Bass Pro Shops 100 MPH GORE-TEX Rain jacket.  It's guaranteed to keep him warm and dry in the nastiest wind-driven precipitation – just like the name says. To meet Gore's Extreme Wet Weather Protection standards, this jacket was tested in 22 inches of rain per hour in the Gore Storm Chamber using wind-driven and drenching overhead rainfall. Only after it passed these rigorous tests was it approved to wear the Extreme Wet Weather hangtag. Because giving the best equals true love, your hardcore fisherman will know he's loved every time he puts on this parka. About $199.99 - $209.99.
Bass Pro Shops 100MPH GORE-TEX Rain Bibs
Of course … if you want your hardcore angler to feel even more loved … you'll put a second gift for him under the tree to complete the foul weather suit of armor.  The 100 MPH bibs are built to the same exacting standards and provide the same Extreme Wet Weather guarantee as the parka.  Don't let him go "bottomless" next time the foul weather strikes.  Starting at $199.99 - $209.99
A Bass Pro Shops gift card is the perfect gift when your angler has a very specific gear and gadget wish list. Simply provide Bass Pro Shops with the dollar amount you wish to give and select your favorite card design.  Bass Pro Shops will immediately mail a card and free Bass Pro Shops catalog.  Bass Pro Shops eGift cards all you to almost instantly send a gift to your favorite outdoor enthusiast.