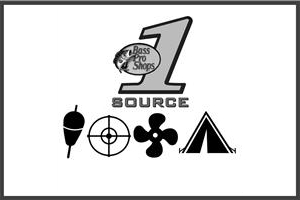 Every angler has his or her favorite go-to bait shop. 
From the lure selection at the massive Bass Pro Shops Outdoor World in Springfield, Mo., to the live bait array at smaller independent stores such as Bob's Bait Shop in Isleton, Calif., here are a few of the notable bait shops in America. 
1. Bass Pro Shops Outdoor World 
Dubbed "The Grandaddy of All Outdoor Stores," the bait and tackle section of the 300,000-square-foot Springfield store offers almost every kind of bait imaginable. 
Be sure to check out their collection of both soft bait and hard bait lures.
2. Bob's Bait Shop
Bob's Bait Shop (916-777-6666) looks like your grandfather's bait shop. According to Bob's website, the store specializes in live bait, including blue crawfish and red crayfish. 
The Delta region is famous for its excellent striper, sturgeon and salmon fishing. If you're planning a trip to the region, be sure to check out Bob's excellent daily fishing report. A dispatch from April 17 noted: "In certain special cases, boat anglers who anchor their boat right at the sturgeon trails could hook 10 or 15 sturgeons in one day." 
3. Babe's Bait Ely
This Ely, Minn., bait shop carries everything from chubs to rainbow minnows, and also offers guide services to the many lakes nearby (218-365-6930). If you're planning on an expedition to the area, you can find Babe's local fishing report here. 
Question: What's your favorite bait shop? What did we miss?