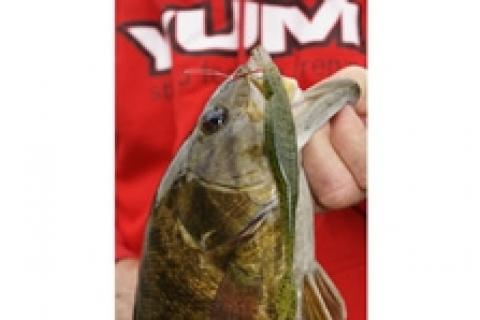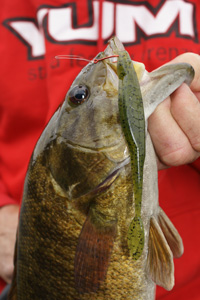 Soft jerkbaits, often generically referred to as "flukes," are one of spring and summer's most productive bass offerings. But confining yourself to the classic wide gap hook, weedless rigging limits its versatility. During certain conditions simply hooking the bait through the nose increases bites, as well as hooked fish.
Perhaps the most fitting scenario for this application relates to river smallmouth bass, fish that spend much of their time in the shallows when the water is warm. Warm water equates to more active fish, ones that prefer more action, precisely what the nose-hooked fluke gives you.
The standard rigging of a 5-inch fluke calls for a wide-gap hook in the 3/0 range. While apt when fishing around cover, the long hook acts as a splint, retarding the bait's ability to bend. Hooking the same bait through the nose allows it to swing freely in a pendulum manner.
A top hook choice for nose-hooking is a drop shot hook like a number 2 Gamakatsu drop shot/split shot hook. It provides adequate hook gap and is subtle enough to not hinder bait movement.
Center the placement about a quarter-inch from the tip of the nose, hooking up through it. The exposed hook equates to more hook-ups.
Using a low stretch superline (with mono or fluorocarbon leader) or fluorocarbon, impart plenty of twitches in the retrieve as the bait cleans shallow water zones. Experiment with various cadences, with a few lengthy "kills," as some days the fish will hit on the pause. Bass in excess of dink-size typically strike the head of the lure, so short strikes are uncommon. When the weight of a bass is felt, simply tighten up on the reel while sweeping back on the rod, allowing the understated hook to sink home.