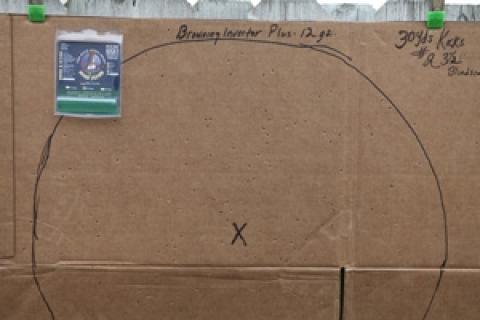 With the duck season now closed almost everywhere, images of unfilled limits of ducks or geese linger on my mind along with all the mistakes I made. Perhaps you have started pulling your decoys and started cleaning them up for next year, too? Or, maybe you started putting your shotguns away in exchange for your favorite fishing rods? If some of you are like me, you are also thinking about those missed ducks and that wasted time spent chasing down cripples and wondering how that happened in the first place. Perhaps, like me, as well, you're kicking yourself for not practicing more?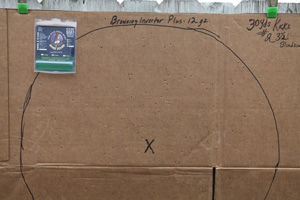 It's important to spend time patterning your shotgun and experimenting with different chokes and loads.
Well, here's a simple first step for increasing your odds, almost immediately, either for filling your limit next year or in preparation of spring turkey hunting: Put the time in before the season opens up and pattern your shotgun. And that comes straight from Scott Carlson, owner of Carlson's Chokes.
According to Carlson, "It's the biggest mistake hunters make. They don't pattern their shotguns. Every shotgun shoots differently and the biggest change you can make to improve your percentage of bagged to lost ducks is to find out where your gun shoots."
Regardless of chokes, he continued, the gun will shoot the same. Remember, chokes and loads work together, so your job before next season is to spend time patterning your shotgun and experimenting with different chokes and loads. Aftermarket chokes, too, according to Carlson, are the best. They are of a higher quality in general, the grade of steel is better and they are heat-treated to handle the higher temperatures of steel shot.
Another manufacturer to consider is Kick's Industries and their diagonally ported specialty chokes. Kick's offers a complete line of aftermarket shotgun chokes for every type of hunting. Starting with a patented solid, heat-treated, 17-4PH-grade round bar stock, their design "eliminates problems with weak seams encountered with tubing lower quality materials." They also have their own unique combination of conical and parallel sections. And changing chokes is made simple, too, with their twist-off chokes. No wrenches are required. As mentioned, Kick's chokes are diagonally ported at 135 degrees, but away from the shooter. The benefits are a reduction in side blast and muzzle jump, common to other porting systems. These ports also improve patterns "by up to 20 percent in increased density."
Also experiment with the Primos brand, specifically their Jelly Head Maximum Range Turkey Choke tubes. These chokes are designed to increase range and pattern density. One of the more obvious features is their elongated muzzle break. Its extended taper and fluted ports also help tighten up patterns up to 20 percent more and help to minimize recoil. Another practical feature, utilizing a proprietary process known as Black-T coating, coats their chokes with a Teflon-like material and helps prevent rust and erosion. "Not to be confused with bluing; bluing does not prevent rust," according to spokesperson, Jason Harris. He quickly added that the Special Forces of our armed services have used this process for years.
Last, but not least, don't forget to give HEVI-Shot a shot (pun intended). Seriously, though, they came on the market in 2000 and have made a big splash since and left some great impressions. From their signature 12-gauge mid and extreme waterfowl choke tubes and a line of 12-gauge turkey chokes, they now have added a full compliment of 20-gauge choke tubes in both waterfowl and turkey lines. And they continue to innovate with their non-ported models, as well. And, folks, they do their research. Kelly Sorensen, VP of Sales and Marketing, says, "We have taken a different approach with manufacturing and have removed the guesswork for our customers by taking the major gun models and designed their choke tubes gun-specific. By utilizing an electronic pattern board, we have shot thousands of rounds to determine the optimum constriction for each family of gun." And all their choke tubes are guaranteed for life.
Chokes, of course, can't make up for basic shot gunning mistakes. Mounting your shotgun improperly in the heat of the moment — "duck" fever — can cost birds, too.
To make next season more productive start now with a few basics: First, and foremost, pattern your shotgun; 35 to 40 yards is a good start. Next compare patterns from aftermarket chokes to the chokes that came with your gun. Then test different loads and shot sizes. Once you've done these things, join a skeet, trap or sporting clays club and shoot, shoot and shoot more. Yes, chokes can give you an advantage with certain game, under certain conditions and different results depending on the loads that you choose. But don't be negligent to experiment with them either. Practice these basics, and I guarantee you will start going home with your limit of birds every hunt.