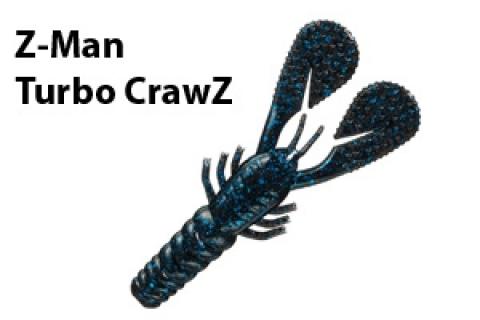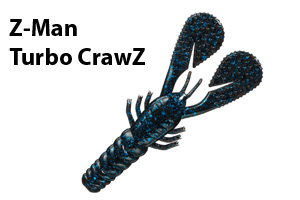 About it: One of Z-Man's newest additions to their ElaZtech lineup of plastic baits is the Turbo CrawZ, and it is making a big splash. With spring bass fishing already upon us, this is the time to put this review to the test.
Rig it: Whether you are a recreational or tournament fisherman, don't be shy to Texas-rig this plastic bait and fish it in thick grass or weeds. Used as a straight Texas-rigged plastic, the flipping action of the "claws" and the noise this bait generates causes a maddening and visceral response from bass and other species. To rig it as a weedless retrieve, use an off-set worm hook or a straight shank hook and thread a thumb nail's length of the Turbo CrawZ just like you would thread a plastic worm. Twist the bait as you would a plastic worm and rethread a thumb's length of bait, but do not pierce the surface of the bait. Simply follow the same set-up as a Texas rig and retrieve the bait in a similar fashion.
Fish it: Because the bait is so "animated," it can easily be bounced off of rock-hard bottoms and be aggressively jigged. The action is so real it is great for flipping and pitching and can be used with the Z-Man Original ChatterBait as a trailer, as well. It is a deadly combination wherever you fish and for a diversity of other targeted fish.
I have written about the Original ChatterBait spinner bait before. The bait creates a great surface buzz that fish find difficult to resist. It buzzes and flashes, and depending on the color of the water, you can choose from silver and gold blades — the gold being more effective in dirty water. Now, add the Turbo CrawZ plastic bait as a trailer for more undulating action and measure the difference. This combination is proving a winning formula on the tournament circuit. The bait comes in a variety of colors, is durable and, as mentioned, very "lifelike."