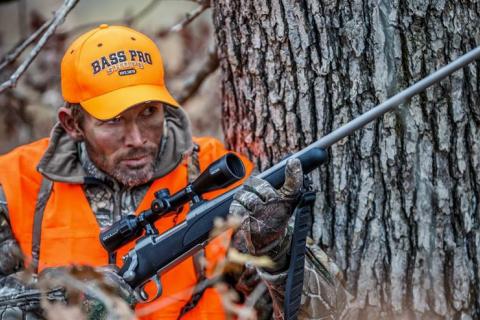 Perhaps you're deer hunting a new area this season and with it comes the requirement … or opportunity … to try a new type of firearm. Maybe you're just curious about how rifles, muzzleloaders, and shotgun slugs really stack up. Or you might see a chance to use the fine print in the hunting regs to your advantage.
In any case, here are the hard shooting facts about the most popular firearms and ammunition types for hunting deer in North America! This infographic will compare five types of ammo slugs and bullets, muzzle velocities, range of these projectiles, pros and cons of muzzleloader vs shotgun, fast facts and more.
EASY LINKS TO SHOP: for a Muzzleloader,  Shotgun, or Rifle at Bass Pro Shops.
Deer Hunting Gear & Supplies Get ready for deer hunting season with the best hunting gear, hunting supplies and hunting equipment from deer calls, hunting stands, ammo, game cameras, camo clothing and more by shopping here at the Bass Pro Shops Hunting.
Fastest Method for Field Scoring White-tailed Deer
Click to view: Enlarge+ PDF of rifle, muzzleloader and slug graphic