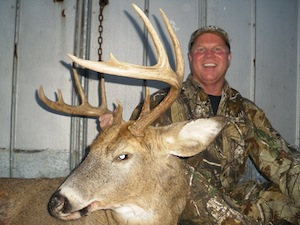 I just made it back from my Indiana deer hunt.
I hunted with Archery Extreme Outfitters in Vevay, Ind., right on the Ohio River. Vevay is a small Indiana town with beautiful scenery.
Months before the hunt, Shawn Brown, one of the outfitters, sent me numerous pictures of trophy bucks. I am from South Carolina and have harvested some nice bucks in our state but nothing of this size.
I practiced hard all summer long with my Mathews Creed in hoping for a chance at one of these large whitetails.
I also had the opportunity to video this hunt for HS Primetime Bucks video. My cameraman on this hunt was Brad Biddle. Brad and I met in Vevay and prepared for the evening hunt.
It's early November, and deer movement was slow. The first evening we only saw a few does. The first morning was even slower, only seeing one deer. I sat in the stand until 2 p.m., got back in the stand at 3 p.m. and only saw two deer all day.
Of course, not seeing much activity, I was ready to move locations, but the guide said, "Hang in there; there's big bucks in that area."
The next morning, once we were in the stand just breaking daylight with barely enough camera light, a mature buck appeared, and I made a good shot at 7 yards. The Swhacker Broadhead did its work, and the blood trail was easy to follow.
All the action was recorded by Brad for HS Primetime Video (www.hunterspec.com).
My Indiana tag was filled, and back to South Carolina I go.


by Steve Cobb