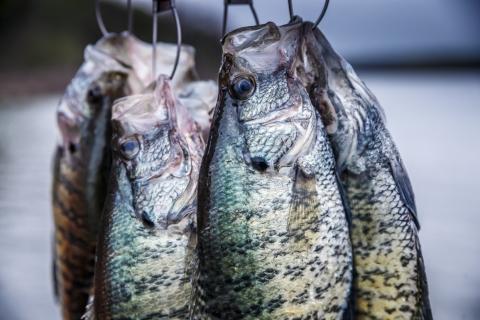 I'd never want to take a crappie shoe shopping. Even if you could overcome the difficult task of sizing a fin correctly, the fish would never be able to make up their mind. One moment plain sneakers would do just fine, the next bright pink platforms are a must-have.
The point is, figuring out the depth and color to use when crappie fishing is often a huge guessing game.  These finicky panfish leave me wishing I could just throw my whole jig box in the water and let them decide. Spider rigging is the closest thing to doing just that.
Spider rigging is a tactic that allows crappie anglers to cover a lot of water while offering multiple presentations. A typical setup involves six to eight rods spread evenly across the bow of the boat. Each rod can be rigged with different jig and live bait combinations to match the crappies' palate. The rig also allows you to probe multiple depths and determine where willing fish are holding that day.
Tip: Click here for more informaiton on jig and live bait combinations for crappie
Click for larger view of the Rookie's Guide to Spider Rigging.

Spin Your Web With the Best Fishing Setup: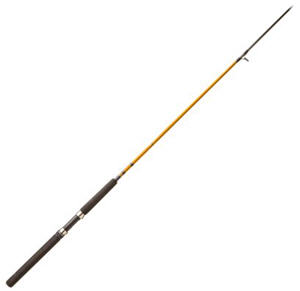 First off, be sure to check local regulations for pole number restrictions to determine how many "legs" your spider rig is allowed to have. I suggest using crappie rods that are 10 to18 feet long like the Bass Pro Shops Crappie Maxx Pro Series Crappie Rod. These will allow enough clearance to keep lines from getting tangled. Be sure to have a long-handled net nearby, it will be essential for landing papermouths on lengthy and flexible rods.
Rod holders like the Driftmaster Pro or L'il Pro Rod Holders that allow the handle to be tucked in for quick and easy removal are also a necessity. When willing slabs are found the action is fast and furious. These can be affixed to the gunwhale or a T-bar base specialized for spider rigging. Many anglers mount these to the bow of the boat and use a foot controlled trolling motor like the MotorGuide X3 Bow Mount, which allows for easy tending of the lines. While not essential, a side-by-side seat configuration lets your fishing buddy lend a hand when the action picks up. Having a visible sonar unit nearby can also be a huge asset when looking for fish and avoiding snags.
Lure the Crappie In With the Right Fishing Gear: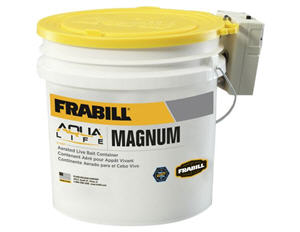 Jigs and minnows are two of the most popular baits. Experiment with different jig head and jig color combinations. Pair your jig with a live minnow or send a few baitfish on a solo mission. The idea is to try many different offerings until you determine what works.
Bait should be frisky, so make sure you have an aerated minnow bucket like the Frabill Aqua-Life Bait Bucket with Aerator or baitwell on board.
If you're greedy like me, you'll want to pair multiple presentations on a weighted tandem rig.  Nothing beats catching two fish at a time. The first step is to peg an egg weight like the Bullet Weights Ultra Steel 2000 Egg Sinkers above a swivel on your main line. Use a weight that is heavy enough to maintain a vertical presentation at your desired trolling speed. Don't overdo it, however, as going too heavy can impact your ability to detect faint bites. Since you'll be targeting the brushy cover crappie frequent, snags are bound to happen.  I recommend using a leader line that is lighter than you main line, so break-offs do not cause you to lose the entire rig.
Finding Crappie Remember Location, Location, Location:
Springtime crappie will be in pre-spawn and spawning modes, seeking rock or wood in shallow water. In summer post-spawn they'll be roaming and feeding. You may find them shallow or deep, but once you do it's a safe bet that you can catch a bunch.  Spider rigging is great for trolling creek channels, open water with stumps or in creeks with rocks and brushy cover.  Once you hook into the first crappie, be sure to make note of the depth and location. It's likely many more slabs will be holding in a similar area.
 
The action can be heavy once the right combination is discovered. Sometimes it's a challenge just to keep all of your lines in the water!  Spider rigging is an excellent way to learn more about the habits and preferences of a crappie population. This information can be valuable when using any fishing tactic—if you somehow manage to grow bored of catching multiple fish at a time.
 
Whether you are just fishing for fun or plan on releasing your limit into some hot oil, be sure to post photos of your successful day on our photo Braggin' Board.