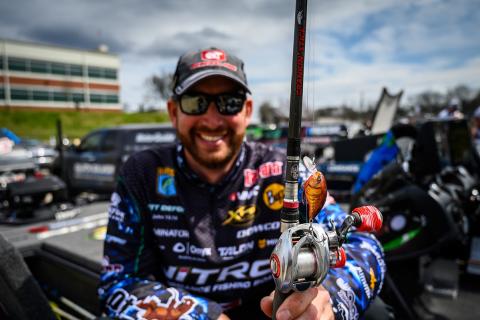 With an 18lb 14oz. bag on Championship Sunday, hometown hero Ott DeFoe sealed his first Bassmaster Classic victory. A total weight of 49lb 3oz over the three-day event propelled him to bass fishing immortality. While Ott clinched the title on St. Patrick's Day, his success was anything but luck. DeFoe keyed on several clear patterns—many of which can be duplicated on your local body of water this time of year.
"I caught all of my fish on 3 different baits, fishing them on just a few different setups," said DeFoe. "It was about targeting shallow transition areas where fish were moving up to pre-spawn staging, or moving up to spawn."
With water temps between 50 and 55 degrees, Ott targeted the shallows with a lipless crankbait.

"It really was a shallow water deal," DeFoe said. "I'd make long casts on those shallow flats, fishing in those transition areas. Anywhere from 1.5" to maybe 3.5" was the deepest I'd catch fish on the lipless crankbait."
His go-to lipless crank was a Rapala Storm Arashi Vibe in Rusty Craw, with a few modifications:
"I was using an orange and red sharpie to add a little bit more color to the lower part of the bait, then adding a black back to it as well." DeFoe noted.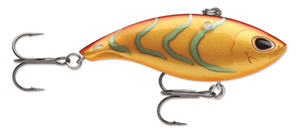 Ott's rod and reel setup for fishing a lipless crankbait is a 7'6" MH Bass Pro Shops Crankin' Stick paired with a Johnny Morris Platinum Signature Baitcast Reel in a 6.8:1 gear ratio. He uses 17lb. XPS Fluorocarbon Line for abrasion resistance and extra heft when hooking into a career-changing fish.
Late on the first day, Ott pulled up to an area with a lot of shallow water stumps. He ended up setting the Arashi Vibe down in favor of a Rapala DT-4 in Dark Brown Crawdad.

Tip Check out this video: Ott's Bassmaster Classic winning lures and techniques
"Lipless crankbaits are extremely good when you've got just a little bit of scattered rock or an occasional piece of wood," said DeFoe. "but this place had a lot of heavy cover and I was worried about getting hung up. That's why I grabbed the DT-4 and ended up catching a largemouth that was almost a four-pounder."
His setup for fishing the DT-4 is very similar to fishing a lipless crank, but Ott opts for a shorter 7' BPS Crankin' Stick, and lighter 14lb. XPS Fluorocarbon.
Due to changing conditions and cooler temps on day two, DeFoe was forced to make some adjustments—targeting docks in transition areas with a bladed jig.
"I did catch some fish off of docks," said DeFoe. "A few keepers on the second day and then a lot of weight on the final day came off a marina dock."
His go-to bait around the docks was a 3/8 oz. bladed-jig in chartreuse and white with a minnow-style trailer. For this presentation, Ott paired a 7'6" MH BPS Crankin Stick with a Johnny Morris CarbonLite 2.0 baitcast reel in 7.5:1 and 17lb. XPS Fluorocarbon.
"Every single bass I weighed in was caught on a BPS Crankin' Stick," said DeFoe. "It is by far my favorite rod for crankbaits, and it has become my favorite rod for bladed jigs. I used to throw it on a heavier rod, but I've learned that softer, more delayed rod really allows those fish to eat that bait better."
In a career-changing event like the Bassmaster Classic, every bite counts.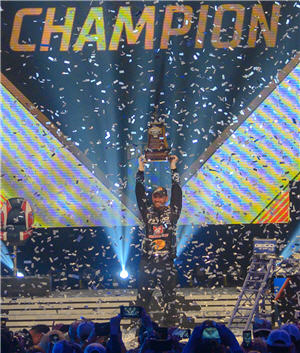 "I never had a fish eat that bladed jig that I did not catch this week," he added. "You have to fish a really clean tournament to have a chance at this title."
DeFoe did more than have a chance at the title, he led the pack—defeating second place finisher Jacob Wheeler by a margin of almost four pounds. With a Bassmaster Classic Championship under his belt, the 33-year old Knoxville native will join the company of bass fishing legends.
"It was a lot of fun out there this week, I still can't believe it went down the way it did," said DeFoe. "What a blessing this was, it's pretty awesome that the Bassmaster Classic trophy will be staying at my house from now on!"
For more information on Ott's Bassmaster Classic winning lures and techniques, be sure to check out this video!!