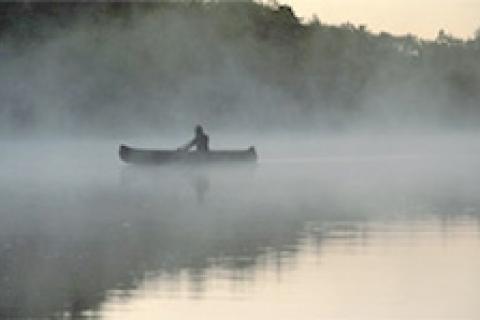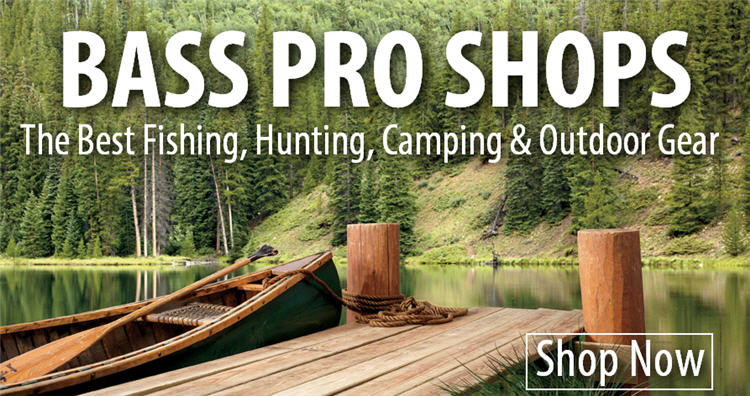 Fishing from a canoe has many advantages over aluminum or fiberglass motorized boats. Mainly, canoes are quiet and their portability makes them a top choice for anglers interested in remote backwaters. In comparison to the plush seats of a bass boat, features in canoes are somewhat basic, which can leave anglers stiff and uncomfortable from several hours of fishing. Yet like any fishing rig, after tinkering, modifications and add-ons, canoes can be transformed into comfortable fishing machines.
Canoe Seats & Chairs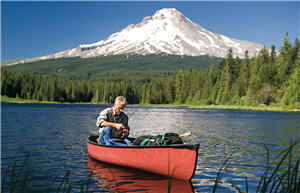 Yet like any fishing rig, after tinkering, modifications and add-ons, canoes can be transformed into comfortable fishing machines.
A fishing canoe should be outfitted to keep anglers comfortable, whether sitting or kneeling, since standing in a canoe is not an option. To outfit a canoe for kneeling, a permanent option is placing adhesive cushioning pads on the floor. While non-permanent knee pad options include placing a spare piece of carpet, a non-adhesive pad, or perhaps your sleeping cushion (if on a camping trip) on the floor of the canoe.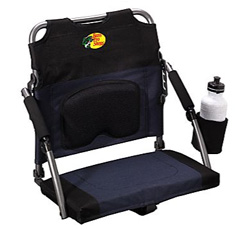 Seats with back support will give you support while spending the day in the canoe.
For sitting, canoe seats in a range of designs (from bench to bucket) and many aftermarket additions are available to increase seat comfort. A portable foam or padded seat provides extra cushioning when fishing for extended hours. Carrying a cushion is better than sitting on a lifejacket, an innocent, but dangerous, maneuver many anglers make, transforming life vests into cushions instead of their designed use as personal flotation devices. 



Other great accessories to outfit canoes are seat backs or chairs like the Bass Pro Shops Canoe Stadium Seat. A seat back provides a back rest and most mid- to high-end models fold down when not in use. Seat backs clip or affix with straps to canoe seats. Chairs are "L" shaped and usually cushioned, giving you the support of a back rest as well as a padded seat. Most chairs come with clips and straps to securely fasten to the canoe's original seats. They come in various designs (from basic plastic mesh ones that clip onto seats to high-end padded ones) in a range of prices. Durable seats also double as great campsite chairs for when you're sitting by a fire instead of paddling on the water.
Outfitting the Canoe for Fishing
First and foremost, I like to carry plenty of rope, straps, shock cords and carabineers to keep my gear in place and secure when canoeing. I find my mind is slightly more at ease when padding in rough water knowing that if the canoe gets swamped or capsizes, my tackle box is secure and won't end up at the bottom of the lake. Keeping items secure also helps you properly balance the canoe for the best performance on the water, so you can focus on fishing.



Dry bags like the Ascend Heavy-Duty Round-Bottom Dry Bag and waterproof cases are handy accessories to use to keep clothes dry and valuables (like cameras) protected.


I also find water bottles with loop-top caps can easily be clipped to the canoe's seat with a carabineer.This keeps water at my fingertips for when I need it, which is especially important when it's hot.You can also clip pliers, scissors and other often-used fishing tools to a carabineers or straps to keep them close at hand.This clip-trick also prevents items from moving around on the floor of the canoe, aiding you in keeping your canoe fishing quiet.


Boat Gear - Adding the Bells & Whistles
Once you've taken care of cushioning your body and securing fishing gear, the next step to outfitting a fishing canoe is adding the angling bells and whistles. If you have an electric trolling motor like the Minn Kota Endura C2 Transom mount trolling motor or small gas motor (such as a 4HP), there are a few mounting options. Square back canoes are designed to be outfitted with a small motor at the stern, while for other canoes side motor mounts are the best option. Side mounts fit across the sides of the canoe behind the stern seat. Having a motor makes canoe fishing a lot easier and less stressful. I find their biggest advantage is that they allow you to maintain boat control when fighting a fish. Otherwise in heavy winds or waves you can drift a significant distance off fertile fishing grounds when playing a fish.  



Tip: Canoe and Kayak Trolling Tactics
To compliment a motor, a portable fish finder like the Garmin Striker 4 Sonar Fishfinder is another key add-on. Most of these compact, sonar units come with transducer suction cup mounts, which work well on most canoes. Outfitted with a motor and fish finder, a canoe can be an excellent fishing machine. Dozens of other accessories can be added to canoes to increase their fishing functionality, but after the above big ticket items, the simplicity of a rod holder is a must. I used to rest my fishing rod across the gunwales when paddling, but I found when an aggressive fish hit, I had to quickly reach for my rod; although I never lost a rod, I did miss a few fish. With a rod holder I can focus on the fish finder and maintain proper boat position without worrying about losing a rod when a fish strikes.



Tip: Fish Finders for Your Kayak, Canoe or Jon Boat
Once you've found biting fish, you may want to anchor the canoe in position. When anchoring a canoe use two anchors to minimize the boat from swinging (unless you intentionally want to do so to fish a wider area). To properly anchor a canoe, put one off the bow and the other directly off the stern. Do not tie anchors off the sides of a canoe as this can lead the canoe turning over in heavy waves. Mushroom or river anchors like the Bass Pro Shops River Anchor between 8- to 15-pounds coupled with nylon rope will work for most canoes. When tying off anchors use quick-release knots so slack line can be let out in the event of unexpected waves surprising you to ensure the canoe doesn't become swamped.



Tip: The Ultimate Guide to Picking the Right Anchor for Your Boat (infographic)
Canoe Safety

It's important to remember the proper safety gear when operating a canoe.Wear your life jacket at all times. Also ensure that the bilge pump, a signaling device, and a throw bag/rope are within reach at all times.Keep a spare paddle in the canoe as well and make sure you can access it quickly when needed.
Canoe Transport
No matter how great the fishing was, a good day can turn bad if you're not equipped to properly transport the canoe. Tie-down or cam straps that lock in place are my top choice for securing a canoe to my car top. If you have a roof rack on your vehicle, using tubular foam that's cut lengthwise and placed on either the rack or on the gunwales of the canoe prevents paint scratching on both the canoe and rack. Without a roof rack, four foam blocks placed on the canoe's gunwales are a simple but extremely effective way to secure a canoe to a car top for transport. Secure canoes to cars by strapping it down from the boat's bow, stern and sides.  


Canoe fishing can be a good way to target your favorite fish and with the right accessories and add ons, these lightweight boats can be quite comfortable. Although not always best for big water, canoes are one of my favorite options for accessing small lakes and river - try the above suggestions for outfitting your canoe and you'll find a new appreciation for the fishing functionality of these basic boats.