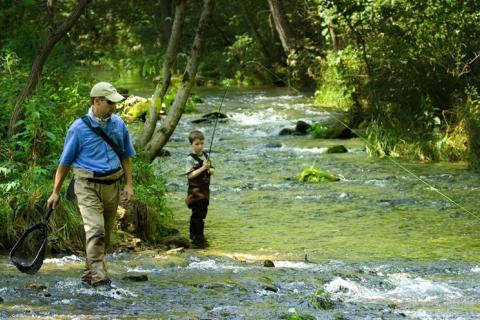 Are You Struggling to Come up With a Gift for Your Outdoor Guy? Here Are My Top Gift Picks From Bass Pro Shops. 
Your outdoor dad or husband may say he doesn't like to shop, but that doesn't mean you're off the hook for finding that perfect gift. Show that special guy how much you appreciate the time you've shared outdoors by giving him a gift he's secretly hoping for.


1. Bass Pro Shops® 36-Quart All-In-One Fryer Kit. If one of the many hats your guy wears is the headgear for chefs, make sure he has the right outdoor cooking tools. The Bass Pro Shops All-In-Fryer Kit will guarantee he'll be king of the backyard cookout.  He can fry, boil, or steam a lot of food for a lot of people with the 36-quart fryer kit. This large capacity cooker features a heavy-duty, aluminum fry pot big enough to handle a 22-pound turkey. The kit's cast iron burner cranks out 38,000 BTUs of cooking power. Your guy can even cook different kinds of food at the same time with the kit's one large and two small baskets.


2. Bass Pro Shops® 8-Person Speed Frame Tent. Tent camping is an awesome way to connect with nature and family and friends. Let him get busy with both faster than ever before with the new 8-person speed frame tent. In a matter of minutes, anyone can easily set up this specially designed tent. The pre-attached steel pole frame means his work is done before you can even gather the first batch of firewood. Plus, this 9-foot by 14-foot tent is big enough to accommodate the whole gang while sheltering them from rain, wind and bugs.


3. CRKT Endorser Assisted Open Lockback Folding Knife. Many guys still live by that old Boy Scout motto about being prepared so make sure your pop is ready for anything with this everyday carry knife. This folding lockback knife has a 3.18" drop point blade made of 8Cr14MoV stainless steel with a scratch-resistant black oxide finish and it is as tough as nails. This functional hollow ground high carbon steel blade maintains its edge well and is easy to resharpen.


4. Bass Pro Shops Extreme Qualifier 360 Backpack tackle bag. The Bass Pro Shops Extreme Qualifier Backpack ensures dad's fishing gear is totally secure and organized even when he's on the go. This fishing tackle storage backpack is an An easier way to transport and organize tackle whether your guy is scooting across the lake in a bass boat, paddling to his favorite fishing spot in a kayak or hiking to a remote mountain lake. The generously padded back support and shoulder straps will keep him comfortable all day while the easy-to-access storage compartments will help him carry all the line, lure and accessories he needs. Customer rating 4.7 out of 5 stars.


5. Bass Pro Shops® Brawler Spinning Rod and Reel Combos.
Give hm a world-class tag team when it comes to hooking, fighting, and landing freshwater fish with the Bass Pro Shops® Brawler spinning fishing rod and reel combos. He'll love the Brawler spinning rod built with backbone, action, and sensitivity in mind. And the Brawler spinning reel is a finely tuned lightweight fighter that will help him hold his own against all finned challengers. Customer rating 5 out of 5 stars. Customers are saying this is the best purchase for the money!


6. RedHead Trailhead Cargo Shorts for Men. An excellent value, these popular (4.4 out of 5 customer rating) durable cargo shorts come in three colors. These RedHead shorts are made of 100 percent cotton twill and feature multiple pockets for whatever he is doing, from hiking to working in the yard.


7. World Wide Sportsman Nylon Angler Shirt for Men - Short Sleeve. World Wide Sportsman Angler men's short sleeve shirt is made from quick-drying 100% nylon. We've made this shirt so it will feel like it's already been broken in the first time he wears it. Your guy will be protected with a level of UPF sun protection.Customers say this shirt is always comfortable and easy to take care of. Customer rating 4.7 out of 5 stars.


8. Ascend 12T Sit-On-Top Angler Kayak. This is what freedom looks like, sit-on-top kayak for fishing, floating, hunting and paddling. Featuring a new design. Our designers took our most-popular sit-on-top kayak and refined it to be even more stable, more functional, and more comfortable. The Ascend 12T Sit-On-Top Titanium Kayak provides easier paddling, stability for stand-up fishing as well as a solid casting platform. Any guy will love the fact there's a ton of room for his gear that includes cupholders to cooler storage and everything in between. Customer rating 5 out of 5 stars exceeding expectations!


9. KEEN Targhee ll Mid Waterproof Hiking Boots for Men. For the outdoor man who yearn to hit the trail, these rugged, comfortable KEEN Targhee men's hiking boots are a great choice. He'll appreciate the fact they are waterproof and breathable.Plus, the comfy, removable insoles have a metatomical, dual-density EVA footbed - molds to foot for top comfort and fit with the lightweight ESS shank for torsional stability for the roughest of trails mile after mile. The tough, Mid cut height increases ankle support over uneven terrain in any weather. Customer rating 5 out of 5 stars exceeding expectations!


10. Luminox 4200 Series Watch for Men. The Luminox 4200 Series watch is built for outdoorsy guys, plus it is water-resistant for up to 200 meters (600 feet). This sleek, modern style watch features RONDA 715 Lith HH6 movement, and the CR2060 battery (included) lasts 10 years, it's ideal for water sports, fishing and anytime wear. The midnight black watch is accented with orange second hand and easy-to-read gray / white hand minute / hour hands. Customer rating 4.5 out of 5 stars exceeding expectations


11. Cabela's Intensity HD 10x25 Compact Binoculars. Treat him to high-powered viewing in an easy-to-carry design with the Cabela's Intensity HD compact binocular. Sheathed in a protective, shock-absorbing rubber armor for long-term durability, the Oculus 7.0 10x25 delivers a crisp, clear, bright view every time. When the big moment comes, he won't have to worry about these binoculars fogging up. They are nitrogen-purged, fogproof, and 100 percent waterproof. Customer rating 5 out of 5 stars exceeding expectations


12. Field Logic The Block Vault Archery Target. Your guy knows that practice makes perfect especially when it comes to bowhunting. To do that, he needs the long-lasting Field Logic's "The Block Vault Archery Target". Field Logic's most technologically advanced archery target is a durable target featuring a high-density core to handle thusands of shots. It's designed for four-sided shooting at multiple distnaces more productive. Layered design makes arrow removal easy.Customer reviews: sweet buy, works great, value for the money rated 4.1 out of 5 stars.


13. Bass Pro Shops XPS Lithium-Ion Battery-Powered Fillet Knife. Fishing guys can always use another fillet knife. This one is battery-powered with 3-cell lithium-ion battery technology. It has 2-plus hours of continuous use and can power through the biggest jobs (fish size or quantity). He will love how easy the knife is to use and that it has a built in safety feature to shut the power off and a nice carrying case too!


14. RedHead Deer Embossed Leather Billfold Wallet. Wallets come in all shapes and sizes and there is a wallet made for your deer hunting guy. This wallet is a great gift for deer hunters or conservationists. Wallet is made of subtly marbled leather and embossed with a whitetail deer.


Tip: Don't have a hunting outdoor guy? Check out Bass Pro Shops Bass Embossed Leather Trifold Wallet here, its perfect for the fishing guy. For the guy into baseball, the Rawlings Baseball Stitch Bifold Leather Wallet is an excellent gift for a baseball fans. Or, just shop the wide selection of wallets at Bass Pro Shops here. You're sure to find the perfect one to give on any occasion.