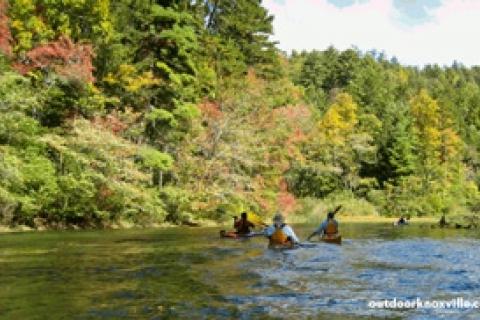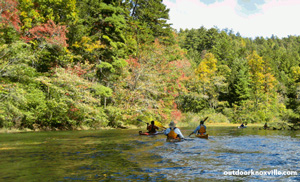 As an event planner, I've been deeply entrenched in Knoxville, Tenn., the past two years. While planning a recent business conference in Knoxville, I learned a great deal about the awesome outdoor opportunities available to business and sporting event visitors and vacationers.
Here's my list of the top 10 outdoor activities to enjoy in Knoxville:
Fish the Local Waterways. Streams, lakes and rivers offer an abundance of species for anglers to pursue. From land or a boat, for an hour or a day, the choices are amazing. Land-based anglers can enjoy access from docks at areas like Holston River Park, which also offers canoeists ramp access to the Holston River. Or, those looking for hearty river action or a float trip for trout can hook up with a great guide service like Three Rivers Angler to circumvent the learning curve or enhance chances of success. Smallmouth bass, crappie, stripers, catfish, trout and more await.


Enjoy the Ijams Nature Center. Not your average metro nature center, Ijams offers wildlife and nature-based experiences for kids and adults, a great interactive display, trails, and plenty of land to roam and enjoy the beautiful Tennessee urban habitat. An abandoned 104-acre quarry is now a beautiful addition to the center and boasts miles of natural walking and biking trails and an abundance of wildlife. Ijams' mission is to encourage stewardship of the natural world by providing an urban green space for people to learn about and enjoy the outdoors through engaging experiences.


Shoot at John Sevier Hunter Education Center Shooting Range. Managed by the Tennessee Wildlife Resources Agency and a local shooting club, this full-service range offers fun for all shooters. Pistol, rifle, silhouette and long-range prone shooting stations are complimented by several five-stand and trap fields for shotgunners and two archery ranges. One of the archery facilities is a walk through 3-D range.


Spend Some Time at the World's Fair Park. If you're visiting Knoxville for a meeting at the Knoxville Convention Center (KCC) or Holiday Inn Knoxville, or another downtown event that keeps you mostly indoors, head to the 1982 World's Fair Park for a picnic lunch, walk around the park, or even a little Frisbee throwing. It's a great green space, adjacent to the KCC and hotel. Also ride up the Sunsphere for a great 360-view of Knoxville or a nice meal.


Bike the Greenways. These multi-use trails are shared by all types of outdoor enthusiasts. Biking is a great way to cover a lot of ground as you wind along natural features like streams, rivers, ridges and open spaces. Greenways protect valuable green space for conservation, recreation and alternative transportation. Knoxville's linear greenway system plus the many loops and walking trails covers over 86 miles. The system includes hard-surfaced (paved or concrete) paths and walking trails. The natural surface trails are listed under Trails.


Paddle the Waterways. Whether a leisurely flat-water paddle along a lake shore, a good workout paddling into a stiff breeze, or the adrenaline-rushing experience of white-water canoeing or rafting, Knoxville is surrounded by multitudes of lakes, streams and whitewater. Launch yourself or connect with a guided party and paddle the beautiful waterways of Eastern Tennessee.


Walk the Town. From Market Square to the University of Tennessee campus, Knoxville offers visitors wonderful opportunities to get out on foot, enjoy some exercise and the outdoor vibe of the town. In addition to covering the paved walkways of downtown, plan to trek the greenways on foot. The myriad trails take you through fabulous natural areas.


Visit the Blue Slip Winery. OK a winery might not an outdoor activity, but at Blue Slip the fruit is locally grown and the wine is made on site at the winery's Old City location. The winery is Knoxville's first and also Tennessee's first urban winery. Stop by for a free wine tasting during store hours. Make sure to try the Whup Ass Red and Golden Muscat, they're just two of the delicious wines offered.


Head Up to House Mountain. This 500-acre natural area is just eight miles from Knoxville. The 2,100-foot mountain crest offers significant vistas. Four miles of natural surface trails, from an easy .03/mile loop to more demanding hikes that can total five miles (combined), are available. The parking area offers a picnic shelter and restroom.


Go Camping. Outdoor enthusiasts who want to enjoy every aspect of Knoxville's outdoors and camp can bring the tent or RV to the Volunteer Park Family Campground or the Southlake RV Park.
For tons more information about outdoor recreation in Knoxville, visit: Outdoor Knoxville and Visit Knoxville.