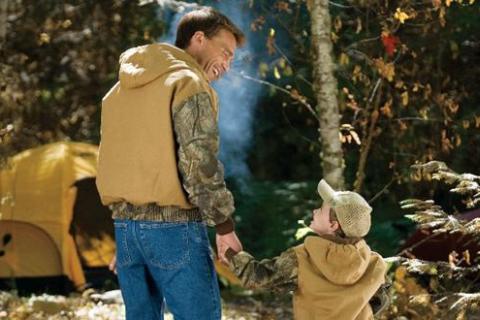 Want to have fun while camping? Of course you do — and you can achieve that goal by being certain you're always comfortable so you can enjoy the outdoors to the fullest. One way to do this is to select and wear the proper camp clothing. The right clothes help you get the most out of every activity by protecting you from the elements and by helping you keep cool and dry in summer and warm and dry in winter. Shorts, a T-shirt and tennis shoes may be fine for an afternoon hike in the sunshine, but if it starts raining and the wind begins to howl, such an outfit will lead to misery and even possible tragedy.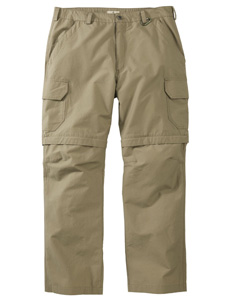 One way to prepare for camping and the outdoors would be to have clothing that is convertable like these Ascend Zip-Off pants.

How much clothing is enough, and how much is too much? This depends on what we're doing and where. The clothing required for a beach campout in Florida during summer will differ considerably from that needed at a fall hunting camp in Alaska. Much also depends on the person. Some folks have metabolisms and body fat that allow them to remain comfortable sitting on a frozen lake during a snowstorm while others start shivering if a cloud momentarily obscures the sun.  
     
Much of our decision-making will be based simply upon common sense. If it's winter, we'll need more clothes to stay warm, including a big coat or parka, gloves, a warm toboggan or other headgear, and perhaps some insulated underwear. On a summer outing in the desert, we'll want an outfit that protects our skin from the intense sun while helping us avoid overheating. If we're hiking a full day to your camp in the mountains, it's probably a good idea to add to your pack a wool sweater, long pants, extra socks and some sort of hat or cap.      


Assembling a Camping Wardrobe        
One way to assemble a good wardrobe of camp clothing is to choose various items of clothing that can be mixed and matched to handle different trips and different conditions. To do this, we'll need items of clothing in four basic categories: inner layer, mid layer, insulation layer and outer layer.


INNER LAYER CLOTHING: As the name suggests, inner-layer clothing (most of us still refer to it as underwear) or base layer like the Bass Pro Shops Midweight Performance Thermal Crew Shirt is worn next to your skin. Its main function is wicking the sweat from your skin during high aerobic activity so you stay comfortable without being damp. It also provides extra insulation. Except for basic items of underwear worn every day, most of these items are used under moderate- to cold-weather conditions when you need some added warmth and you plan to be active.  
     
Fabrics used to make inner-layer clothing include cotton, silk, polypropylene, MTS 2 (Moisture Transport System) and Capilene. Although cotton is comfortable when dry, it absorbs and holds sweat next to your skin and takes a long time to dry. It's a poor choice for inner layers when it's cold outside, but okay if it's moderate or warm. Silk is lightweight, comfortable, wicks well and insulates well, but it requires special care when laundered and is not as durable as the next three materials. Polypropylene is great at wicking sweat away from the skin, but sometimes retains odors and gets scratchy after washing. MTS 2 offers polypropylene's benefits without its drawbacks. It's as comfortable as cotton and available in a variety of weights for different conditions. Capilene also is a comfortable, wicking fabric, with a special chemical treatment to help spread sweat throughout the fabric so that it evaporates quickly.  
     
MID-LAYER CLOTHING: This is basic clothing you wear every day -- long pants, long-sleeve shirts, shorts, T-shirts, etc. — to provide protection in moderate to warm conditions. Mid-layer items often are worn alone on short trips in good weather. Each piece should be comfortable, lightweight and durable.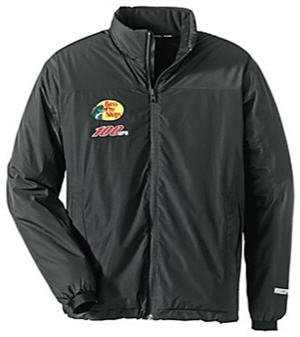 A wide variety of fabrics that offer varying degrees of water resistance and breathability are used in making outerwear.
Five commonly used mid-layer fabrics are cotton, nylon, MTS 2, Capilene and wool. Cotton is a common choice for warm-weather camp clothing because it's lightweight, comfortable and cool. Nylon is soft, lightweight and durable but non-absorbent. Clothing made from it is available in styles for both warm and cold weather uses. Some campers wear wicking mid layers made with MTS 2 or Capilene to insulate and keep the skin dry. And wool, which insulates well even when wet, is used in full-sleeve shirts, pants, over-shirts, sweaters, jackets and other moderate to cold-weather clothing.   


INSULATION-LAYER CLOTHING: These are shirts, pants, vests, jackets, pullovers and sweaters that provides additional warmth whenever conditions are such that inner-layer and mid-layer clothing won't keep us comfortable. The best items are not only warm, they're lightweight and non-bulky, too, and they "breathe" to let sweat and excess body heat escape.  
     
Wool is one commonly used insulator, but pile and fleece, which are available in a variety of styles and thicknesses, are the choice of many campers because they're comfortable, warm (even when wet), fast drying and lightweight (half as heavy as wool). Wind-proof liners like the Bass Pro Shops 100MPH Windstopper Insulated Liner jacket are added to many of today's pile and fleece garments so they'll keep the weather out, unlike old pile/fleece clothing.  
     
OUTER LAYER CLOTHING: Are primarily outerwear clothing tops and bottoms that protect the wearer from elements such as wind, rain and snow. The best items are breathable, just like insulation layers, and keep the user dry and warm in harsh weather conditions or extended periods of rain.


A wide variety of fabrics that offer varying degrees of water resistance and breathability are used in making outerwear. Among the least expensive options are fabrics like PVC that are completely waterproof but which provide very little breathability. These can be extremely uncomfortable when it's hot or you're very active. Waterproof/breathable fabrics such as Gore-Tex are more expensive, but they're good performers in a wide range of weather conditions, making them the best choice for your money in most situations.
       
When selecting outer-layer clothing, considerations go beyond just the type of fabric to use. You also should consider if the clothes allow for a full range of motion during your usual camp activities; how easy or difficult it is to get in and out of the clothing when adjusting layers; whether or not the waist, cuffs, and neck can be sealed tight for bad weather but also easily opened for extra ventilation; and such features as the number of vents to enhance breathability, the number of pockets for storing gear items, and the presence or absence of a hood, storm flaps and sealed seams.        


Lucky for us, today's campers can find a variety of quality camp clothing in many fabrics, styles and colors. There's something for every budget and every taste.