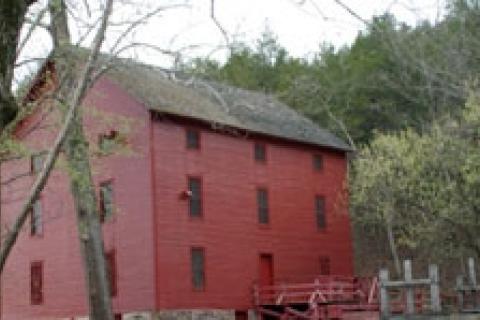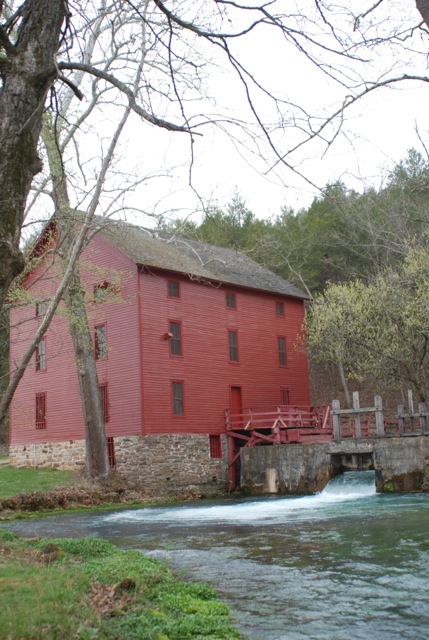 Alley Mill is said to be the most photographed spot in the Missouri Ozarks. And for good reason. The "Old Red Mill" conjures up images of the past, when the area was a hustling hub of frontier commerce, family outings and community gatherings.
Alley Mill and spring are located in Shannon County, deep in the Ozarks west of Eminence, Mo. The grounds and buildings are a part of the Ozark National Scenic Riverways. The spring branch flows into the nearby Jacks Fork River.
In the 1830s and 1840s European settlers from Tennessee and other regions began to homestead around Alley Spring. The rivers and springs attracted the hardy pioneers just as they had Indian tribes thousands of years previously.
A settlement grew in the hills and hollows along the Jacks Fork River. Then called Barksdale's Spring or Mammoth Spring, the spring area became the focal point of a community.
The first mill was built in 1868, followed by a post office, named after a prominent farm family in the area. From then until now the area has been referred to as Alley Mill, Alley Spring, or Alley for short.
The current mill at Alley was built in 1894 by George Washington McCaskill and partner Jenoah Whitacre. Their engraved names still grace the wooden siding next to the mill entrance.
Alley Mill played an important role in the community, turning corn and wheat into meal. It also served as a social hub. People lived far apart in the hills. Everyone gathered at Alley Spring both for business and socializing.
Whole families came in wagons. Others arrived by horse or mule. Most camped a few days while their grain was ground. The wait allowed folks to swap news, picnic and forge new friendships. It is said that a lot of "sparking", or romancing also took place in the shadows of Alley Mill.
John Knots purchased the 80 acres in 1902. He added a well stocked store and a blacksmith shop. From 1913 into the Prohibition Era, Alley served as a commercial resort. People traveled from as far as St. Louis to enjoy the beauty and solitude of Alley Spring.
Alley still serves as a gathering place for families, reunions, weddings and social events.
The National Park Service operates a  large campground nearby. A small store and canoe rental is available. A float trip down the acclaimed Jacks Fork River is a grand addition to an Alley visit.
Sit for a while by the gurgling falls of Alley Spring. Let your mind drift. In will not be difficult to envision the clop of hooves,  the jingle of reigns, a child's laughter and the smell  of wood fires and home cooked meals.