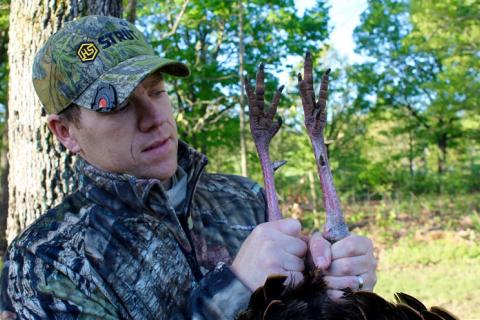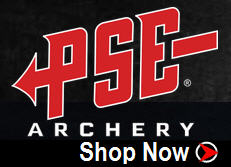 If you were to ask the question: What is the most liked thing about bowhunting? Most hunters would say they like the challenge and the thrill of having an animal up close and personal before making the shot. Spring turkey hunting can be an exciting challenge in itself. However, when you take a shotgun out of hand and replace it with a hunting bow that challenge increases tenfold. I have been turkey hunting since I was a young teenager and I have had my fair share of trial and error situations. I've got some tips in this article I have learned that may help a turkey hunter who is interested in harvesting their next turkey with a bow, as well as share a few answers to some common questions from longtime bow hunter and PSE pro staffer John Odell.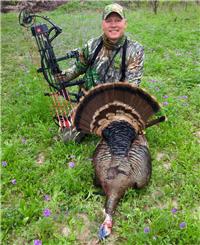 John has been bowhunting turkeys for 25 years, during that time he has harvested the archery turkey grand slam, which means successfully taking the main 4 species of the wild turkey, the eastern, Rio Grande, Merriams, and the Osceola. Needless to say Odell knows what he is talking about when it comes to bowhunting turkeys. Here are a few question and answers to help you be successful on your next hunt.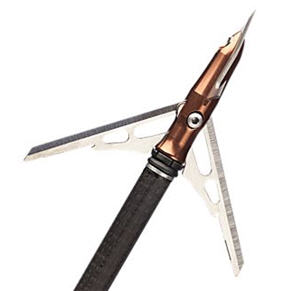 Rage Xtreme Turkey Mechanical Broadhead
What kind of shooting equipment do you use to harvest a turkey with a bow?
John Odell – "I want a hunting bow that is easy to maneuver in tight quarters, such as in a ground blind. I also like a smooth drawing bow with a let off of 90% so that I can make a quick and easy draw on a gobbler. I also want a bow that is accurate which is very important when shooting at turkeys because they have such a small kill zone. My broadhead choice is the Rage X-treme Turkey Mechanical with a 2.3 inch cutting diameter. I like the large cutting diameter because again, the kill zone of a turkey is so small."


John Odell – "I shoot a PSE Carbon Air 32 ECS bow. This bow is dead on accurate and is perfect to be able to move around in a ground blind without creating any unnecessary movement." 
How important is camouflage when bowhunting turkeys?
Heath Wood – "A wild turkeys biggest defense is by far their eyesight. Turkeys can pick up on the slightest movement, this is why trying to pull a bow back can be such a challenge. I like a good camouflage that matches the terrain during the spring, I wear the NEW Mossy Oak Obsession camo clothing, this pattern has the perfect mix of spring colors, along with a high definition that blends in almost any terrain found all over country."



Tip: Make sure every part of your body is covered in camouflage, including headnets for your face, and gloves for your hands. Any part of your skin that is exposed is an opportunity for a gobbler to pick you off. 
Do you use a ground blind? 
John Odell – "Turkeys associate movement with predators. Turkeys can also differentiate colors and are extremely wary with their keen eyesight, which is why I am a big fan of hunting in a ground blind. I use a blind such as the Muddy Treestands Ravage Ground Blind. This blind has lots of room to be able to draw your bow back without hitting the sides, which can spook an approaching turkey."



John Odell Tip – "When setting up a ground blind, if at all possible try to have the sun at your back. This creates a shadow inside of the blind which helps hide you, then obviously when a turkey is looking into the sun they are less likely to pick up movement.


Do you use decoys when bowhunting turkeys?
Heath Wood - "Using turkey decoys, in my opinion, is a must when bowhunting gobblers. I use three Hunter's Specialties H.S. Strut Lite turkey decoys in my set up. I use a jake, upright hen, and feeding hen. The main reason for decoys is to get the attention of approaching turkeys onto the decoys instead of you. When a gobbler is locked in on a decoy setup, it creates the perfect opportunity to draw your bow then make a successful shot."

Heath Wood Tip – "Use your decoys as a range point, I like to take my Nikon Monarch  VR (Vibration Reduction) rangefinder and set my decoys at exactly ten yards from my blind. I will then range a couple of more landmarks such as trees, and rocks so that when a turkey comes into range I know exactly where I need to aim to make a successful shot."


Final Tip

John Odell - "Like they say in real estate, location is everything and it's no different when finding a place to bowhunt turkeys. Find a place where turkeys feed, water, strut for hens, or close to where they roost. Then as I mentioned utilize a ground blind as well as some well-placed decoys. If you do all these, you should easily find success.