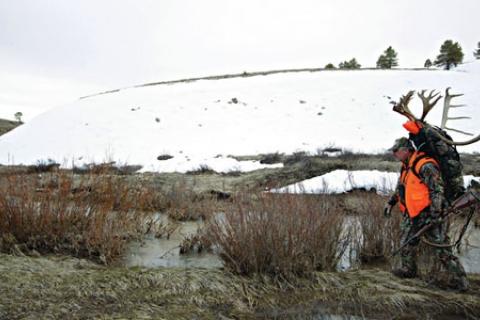 Caribou inhabit some of the most deceptively rugged country in North America. From a distance, the tundra looks flat and featureless, but as soon as you set foot on it you quickly realize that there is hardly a flat spot on it. Every step is rough and uneven and will challenge you.


Boots

Tough, waterproof leather or rubber-leather combination boots with good ankle support are a must, and make sure they are well broken in. Unless you are planning a November hunt, these features are more important than heavy insulation, as you will likely do enough walking to keep your feet warm in all but the most frigid conditions. Bring a second pair if you have it and rotate them throughout your trip in order to allow them to dry.


Bonus Gear Tip #1: Don't ignore the importance of good socks. A thin sock made of a wicking material combined with a thicker, wool-blend outer sock works best for most people. Bring two sets, and a spare.


Bonus Gear Tip #2: Don't forget blister treatments such as medical tape, antibiotic ointment, gauze, blister pads and moleskin. Better yet, take along a complete first aid kit, just in case.


Clothing

It isn't uncommon to experience cold, snow, rain, sun, heat and bugs during a hunt, and possibly even in a single day. Be prepared for just about any weather condition, but a base layer consisting of a modern, moisture-wicking fabric will suit them all. Top everything off with waterproof outerwear or a light rain suit. In between, layers of wool-based or fleece shirts, sweaters and pants will serve you well. Bring a small pack to carry certain essentials such as water with you while out in the field, which will also allow you to add or remove layers as conditions change throughout the day.


Sun protection

A few small items that may seem unnecessary and are not often listed on an outfitter's gear list but can be worth their weight in gold are sunscreen, lip balm and sunglasses.


Optics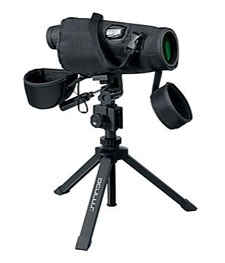 Spotting scopes, like this one from Oculus, are essential to stalking caribou.
Caribou are often spotted — and stalks begun — from a mile or more away, so good optics are essential. Don't leave all the glassing to your guide; two pairs of eyes are better than one. A quality 8x or 10x binoculars will be your workhorse in this area, but a spotting scope can save a lot of wasted time and effort stalking a bull that doesn't measure up. 


Shooting rests

Monopods, bipods — whether attached to your rifle or not — and tripods are a great aid for longer shots.


Guns

Despite the longer shots and the caribou's size, they are not usually difficult to put down. Flat-shooting, scoped, bolt-action centerfire rifles ranging from the .25-06 Remington on up to the .300 magnums are the norm. Modern, in-line muzzleloaders of .50 caliber are also increasingly popular choices.


Bonus Gear Tip #1: Also, make sure you bring a 12- or 20-gauge shotgun and shells suitable for ptarmigan. Besides being very plentiful in much of the Far North and providing a great diversion when the caribou aren't cooperating, they are also one of the tastiest upland birds you will ever eat.


Bonus Gear Tip #2: Don't forget your fishing gear. Water is never far away in caribou country and, in season, some great fishing for pike, lake trout, brook trout, char and grayling is often available. A light-action, multi-piece travel rod with a selection of spoons, spinners and jigs can provide great sport should you fill your caribou tag early in the trip.


Bows & Gear

In areas at or below the tree line, or areas with lots of hills or rocks, bowhunting can be very successful, but make sure you select an outfitter who is used to bowhunters, or you may wind up with a guide that considers getting to within 100 yards of a caribou bull to be a good stalk. Particularly for hunts in the more open tundra areas further north, bringing a rifle along in case the bowhunting proves particularly frustrating can save your trip. Bows, arrows and broadheads suitable for deer will do just fine.


Also Read: 5 Caribou Sub-Species and Methods for Hunting Them