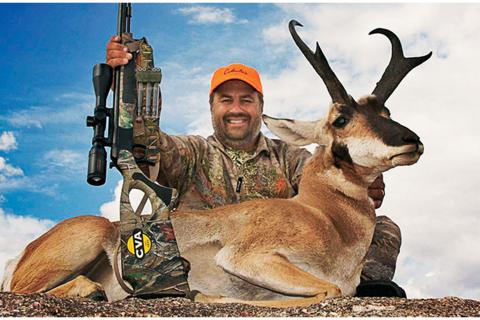 Hunting around the world with a muzzleloader, you face some harsh conditions – Changing humidity levels, rain, snow, sunshine, drastic sudden changes in temperature that can cause your barrel to sweat, and much more. From Alaska to Africa, with your muzzleloader, or (as I have just described) during a typical October afternoon in my home state of Montana, moisture and condensation are hard on your muzzleloader.
Over the years, companies have tried to make their muzzleloaders more and more weatherproof, or shall I say, rustproof. Being the past editor of a popular muzzleloading magazine, I got to test the latest and greatest being introduced to the consumer, and can assure you that I have never seen a barrel withstand the elements inside and out as well as the CVA V2 lineup of muzzleloaders. After all, the inside of the barrel is where corrosion likes to start. Let's look at the nitride process.
Tip: Specifically made for big game hunting, the Optima V2 muzzleloader features a 416 stainless steel, fluted barrel that resists corrosion and makes the bore easy to clean.
Tackling the Plains With a Nitride Treated Barrel
CVA introduced the latest in high-tech barrel treatments to its Accura line of muzzleloading rifles, a technique known as salt-bath nitriding. Already widely used in military applications, the nitride process actually hardens the outer layer of the steel, making it significantly more durable and more corrosion-resistant than even chrome lining – which was previously the highest standard in bore-toughening techniques. With muzzleloaders being particularly susceptible to corrosion, CVA's application of this new technology to its premium Accura MR and Accura V2 thumbhole models and Optima line advances these top-selling, premium-quality muzzleloaders to an even higher level.
According to Dudley McGarity, CEO of BPI Outdoors, owner of the CVA brand, the move to using the nitride process on a muzzleloader was a natural for the company. "We've been using the nitride process on a good many of the OEM barrels that we now produce for other manufacturers under our Bergara Barrels brand, so we were well aware of the benefits for centerfire barrels, and felt it would even be a greater enhancement for muzzleloaders," he said.
Even though these barrels are made of 416 stainless steel, the nitride process turns them matte black in color. According to McGarity, wear resistance, corrosion resistance and lubricity are much better than blued carbon steel or untreated stainless steel. And, unlike the currently popular exterior ceramic coatings, nitriding protects the outside and the inside of the barrel, and it will not shoot out, even with thousands of shots. "Best of all," McGarity continued, "this is the closest thing we've ever seen to a rustproof muzzleloader barrel. While some surface rust might occur in extremely humid and/or salty air conditions, the rust does not penetrate the steel, so it just wipes right off. Rust-pitted bores are now a thing of the past."
So with this great new technology, it was time to put it to the real test. After applying for several years with Quentin Smith of QRS Outdoors in Wyoming, my wife and fellow Cabela's Ambassador Marsha Schearer and I each drew antelope tags. I was up first, and we glassed the sage-covered open hillsides for the beautiful pronghorn antelope.
After a few minutes, I realized the question wasn't if I was going to get a buck, it was just how picky did I want to be. After all, I have guided antelope hunters for years and have had my share of cactus stuck into my knees to prove it. Early that afternoon, we spotted a nice buck feeding along the edge of a creek bottom.
We had just enough terrain to get within muzzleloader range. As smoke filled the air, the PowerBelt Aerolite hit its mark, and within minutes I was punching my tag and applying it to the dandy speed goat of the prairie. We spent rest of the day looking for a buck that Quentin had been scouting. It was a heavy-horned buck with dandy prongs that he had seen off and on during the summer. It wasn't until the next day that we spotted him tending to a doe with the rut in full swing. It took three stalking attempts by Marsha to get within muzzleloader range. Rain started to hit the end of her barrel. With the pronghorn's incredible eyesight, staying low and using the terrain was of utmost importance.
Tip: PowerBelt AeroLite AeroTip Bullets are the most advanced muzzleloading bullets have all of the benefits of saboted bullets but none of the problems. The PowerBelt Bullets are full-caliber sized, easier to load, and don't require cleaning after every shot and they are designed for standard loads.
As Marsha slipped through the damp sage, she set up for a shot. As the hammer dropped on her CVA Accura V2, the buck dropped in its tracks. She had just dropped the potential new women's muzzleloader world record. Excitement filled the air. We knew it would be close and a tape around its horns proved it was in contention, but there was a drying period ahead. Nevertheless, it was a magnificent antelope. After the drying period ended, the official score found it had ranked No. 3. Her buck was bigger than my buck, but when you hunt together as a family like we do on "Shoot Straight TV," we're always happy for each other. Well, maybe..
But no matter where you decide to hunt with your muzzleloader, try the new CVAs with nitride. Also, check out their new Accura V2 LR with 30" nitride corrosion-resistant barrel. We prefer ours with the thumbhole stock.
What is Nitride? Roger Raglin explains CVA's Nitride in this video by CVA
By Chad Shearer