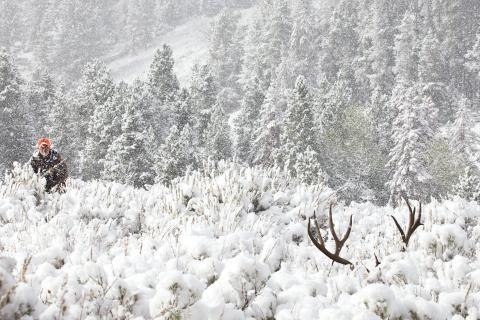 Layering apparel for cold-weather situations can not only help maintain a moderate body temperature, but it could save your life in an emergency situation.
FIRST LAYER: Base Layer
Sometimes called longjohns and long underwear, this is the first layer you put on. It should have a close fit that contours to your body to wick moisture away from the body, and thereby keep you warmer. Available in natural and synthetic fabrics and blends, such as polyester, silk and wool, many base layers have four-way stretch and ascending fabric weights that accommodate varying levels of activity. An antimicrobial treatment gives you extended-wear comfort. Choosing the best fabric and style comes down to personal preference and your outdoor activity.
Shop Cabela's ECWCS Base Layers
SECOND LAYER: Fleece
Worn semifitted, this layer is worn over a base layer, and is meant to provide additional warmth and still maintain breathability. It's also great worn without a base layer, thanks to next-to-skin, brushed softness and different weights and finishes, such as water repellency and wind resistance. Anti-pilling construction not only keeps even more body heat in, but upholds the lifespan of the garment. Styles vary from 1/4-zip pullovers to full-zip jackets, and some are even zip-in compatible with heavier parka systems.
Shop Cabela's Fleece Mid-Layers
THIRD LAYER: Outerwear
The final layer is a protective shell worn over the base layer and fleece layer. This defends you from the penetrating, chilling effects of wind and water, while still maintaining breathability to wick away the moisture evaporated from your skin by the base layer.
The shell's ability to guard against moisture is a major consideration - preventing water from soaking through to your skin is ideal not only to optimize your cold-weather comfort and performance, but also to ensure your safety in extreme cold weather.
An outerwear garment's level of water protection is measured in millimeters (mm), in conjunction with specific treatments that bond the fabric weave for varying degrees of water protection. Knowing the different levels helps ensure you're wearing the best type for your winter outdoor activity:
Water-repellent – Tightly woven and sometimes chemically treated with a durable water-repellent finish. Provides minimal protection against rain and snow. Once saturated, this fabric loses its effectiveness.


Water-resistant – Similar to water-repellent fabric, but resists water saturation for longer periods of time before losing its effectiveness.


Waterproof – Tightly woven and chemically treated with a higher amount of durable water-repellent finish to completely block water. Maintains water-protection properties even after prolonged exposure to rain, sleet or snow.
Specialized laminates, such as GORE-TEX®, Omni-Dry®, HyVent™ and Dry-Plus®, can also be applied to synthetic fabrics to provide added waterproof protection. These laminates reduce fabric pores so they're smaller than a drop of water, but still larger than a vapor molecule. The effect is a waterproof yet breathable garment. To be considered 100% waterproof, a garment must also have all seams sealed with waterproof tape.
Your final layer can also include varying levels of insulation - synthetic and natural - for added warmth when needed. Some parkas come with adjustable, removable hoods and zippered ventilation to help control body temperature when needed.
Create your own layering system with Cabela's Instinct hunting apparel