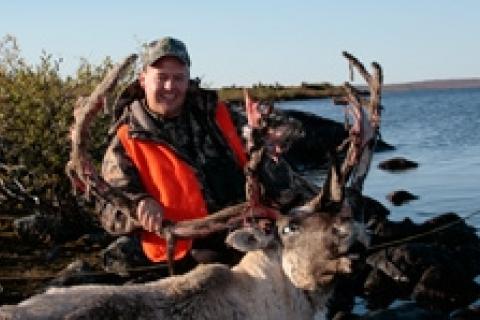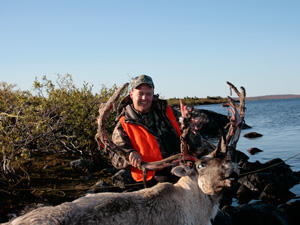 If a caribou hunt is on your "Bucket List" and there's a hole on your trophy room wall just the right size to fit a nice shoulder mount of a caribou bull or two, you may want to find a way to make 2013 the year you finally book a trip to the Arctic region of northern Quebec, Canada.
This ruggedly beautiful area has been hosting hunters from around the globe for decades and for good reason. Although hunting any migratory animal is always a feast or famine possibility, the Quebec-Labrador caribou subspecies found in northern Quebec offers perhaps the best opportunity to witness the awesome spectacle of seeing thousands of caribou streaming past your camp.
Although there are other areas of North America to hunt caribou, one of the other reasons that Quebec has been a particularly attractive destination for so many years has been the two-animal limit. This has allowed hunters the opportunity to try to harvest one bull with a rifle, and perhaps a second with a bow or muzzleloader. Many hunters have taken advantage of this flexibility to take the first nice bull they encounter, and then spend the rest of the hunt holding out for a real whopper. Success rates on two bulls have historically been extremely high on hunts with quality outfitters.
Unfortunately the caribou population in Quebec has fallen on some hard times in recent years, for reasons that are not entirely clear. The once-mighty George River herd has collapsed and is now closed to hunting. The Leaf River herd is also much reduced from historical highs, but is stable. However, after much rumor and speculation, the Quebec government has just announced that the limit will be reduced to one caribou, beginning in the 2014 hunting season. So this may be your very last opportunity to harvest two of these spectacular trophies on one hunt.
A few years back I had the opportunity to hunt with Sammy Cantafio's Ungava Adventures, and although I filled only one of my tags, I was lucky enough to tag a dandy, and I had a great trip. He may still have some openings for this coming season.
Caribou follow routes established over eons, but the timing and even the course of the migration can vary based on wind, weather and other factors unknown to man, and can even change dramatically some years. You can literally go to bed one evening convinced that there isn't a caribou in the country, and wake up to a landscape littered with animals. Or they can be here today and gone tomorrow. For this reason most of the outfitters in the area keep tabs on the migration using satellite telemetry data provided by the Quebec government. If they have mobile camps or permanent camps on active routes, your chances of success are high, although the migration in some areas is often more of a trickle than a steady stream. That was the case during my hunt.
Outfitters generally operate out of a number of camps, offering full-service hunts with pricing depending upon the guide-to-hunter ratio and number of days. Hunts generally start in mid-August and end in early October. During the later hunts, ptarmigan (possibly the finest game bird I've ever tasted) and the occasional black bear may also be hunted, while fishing for lake trout, brook trout, salmon and Arctic char is often available during the early season hunts.
Most camps are established on large lakes. Much of the travelling and hunting is done by boat, with hunters and their guides typically setting out from camp each morning by boat, taking to shore when caribou are spotted or to hike to inland areas to glass.
If you're looking for the opportunity to hunt in a land where the night air is filled with wolf howls and the breathtaking Northern Lights, with a great chance to bring home two impressive sets of antlers and some very fine meat, there may be no better time than the present to make it happen.
      
Good hunting.