"I'll yank a good smallmouth from under this log coming up," said my long time fishing buddy Vern Clemens. 
We drifted lazily down the Gasconade River in the Missouri Ozarks. Clemens handled his Paddle Jon with earned expertise. His cast with a blue and black jig-n-pig splashed lightly at the upper end of the submerged log. Clemens allowed the jig to sit still for several long seconds. He raised his rod tip just slightly. "He's taking it," he said as he set the hook. "Told ya there would be a nice smallmouth there!" 
Clemens proved to be the consummate smallmouth angler — the best I have ever met. He knew the stream he loved, knew the fish that lived there, and knew how to catch them consistently.  His bait of choice remained a blue-black jig-n-pig rigged with a Uncle Josh Pork Bait Big Daddy Frog. Clemens always trimmed the bottom of the pork frog to release more of the scent and to expose the white flesh of the rind. His tactics worked magic on Gasconade River smallmouth.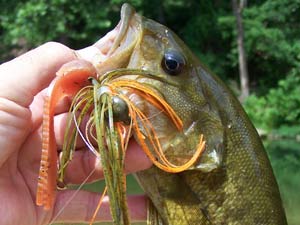 Studying the color of the local crayfish population should determine the color of your jig and trailer.
I have repeated Clemens' fishing lessons many times over. I readily admit, however, that I have never attained his level of competence. My jig of choice is the Bass Pro Enticer Pro Series Rattling Jig tipped with a Zoom Salty Chunk. 
I struggled to slide the canoe across the gravel bar to the Huzzah all by myself. Corey Cottrell, my fishing buddy for the day, once again proved his fanaticism for smallmouth fishing. He tossed a lure while I drug the canoe. The water exploded and Cottrell reeled in a 15-inch smallmouth on his first cast. 
"I want that lure," I goaded. "What is it?" 
"It's a Lucky Craft Sammy bait," Cottrell replied. "And they are deadly on smallmouth. They are the easiest lure to do the walk-the-dog I have ever used."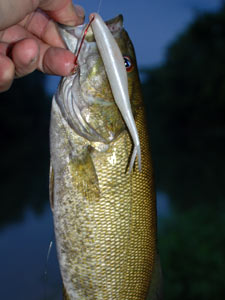 The versatile Fluke is the perfect smallmouth bait. 
I never go after smallmouth without several Lucky Craft Sammy baits in my box. The Sammy 85, the 3 1/4-inch model in Tennessee Shad color is my favorite. However, I carry several colors and a couple of the larger model 100 baits as well. 
The Super Fluke and Super Fluke Jr., made by Zoom, are among the most versatile of smallmouth baits. The long, slender, plastic baits imitate a dying minnow superbly. Cast, wait, slight jig and the action begins. The baits may be fished slowly on top when rigged weightless, or rig with a weighted vertical drop hook for deeper action. 
Spinnerbaits are a long time favorite of smallmouth fishermen. They are the perfect lure to throw when you want to cover lots of water. Cottrell uses them as search baits to find fish and then switches to another bait for slower fishing. The Tandem and Double Tandem Blade Booyah Spinnerbaits in white are a good choice for smallies. 
Buzzbaits are among the most fun baits to toss for big smallmouth bass. Every angler relishes explosive strikes of marauding smallmouth when they blow up on a buzzbait. The new Strike King Tour Grade Buzzbait is a high quality lure that will last and last under the rugged conditions of casting to rocky cover for monster smallmouths. 
Chompers is name long synonymous with bass fishing. The 4- and 5-inch twin-tail grubs like the Strike King Rage Tail Twin Tail Grub, fished on a Chompers stand-up jig is bad news for hungry smallmouth. The garlic scented baits are simply irresistible. The baits may be fished and jigged slowly on the bottom, drifted down runs or swam across the surface. 
Tube baits are an underrated bait for smallmouth bass. The bland looking baits work wonders on stream bred smallmouth. RedHead Pro Staff member Walter Parrott introduced me to Bass Pro Shops Tender Tubes well over a decade ago on a trip we shared on the smallmouth rich Huzzah Creek. Parrott worked magic on the fish with a mustard colored tube rigged on a 7-foot ultra-light Bass Pro rod. 
Yum's CrawBug makes my list every time I head to the river. The 2 1/2-inch model in camo — a combination of blue, red and green hues — is deadly on smallmouth bass in rocky cover. I often pitch the small baits to visible fish. Once the bait settles near the fish, pause for a few seconds and then slightly raise your rod tip. It is awesome to watch bass suck in the bait. The larger Crawbugs work, too.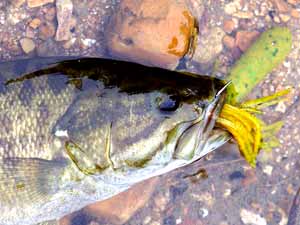 Tubes are deadly smallmouth baits when bounced along the bottom.
The do-nothing baits of the bass fishing world are truly incredible, and Gary Yamamoto's Senko soft baits like the 5' Senko Worm is among the best. These straight, round pieces of plastic come in a rainbow of colors and all work equally well. However, an angler can put his own twist on their usage. The common presentation is to cast and let them sit with an occasional pause. I once watched a fisherman on Bull Shoals Lake in Arkansas catch several big smallmouth by sweeping his rod in a 6-foot arc around the bow of his boat. He Texas-rigged the Senko. After the sweep, he would drop his rod tip and allow the bait to flutter back to the bottom. That is when the strikes occurred. 
Storm's Storm's Original Wiggle Wart has long been revered as a smallmouth bait. Warts in browns, greens and oranges are deadly baits. Check the color of crayfish in the area where you intend to fish Warts and you are in business. Work these crankbaits around rocks, rubble, logs and don't forget to dig them into the gravely river bottom. 
Zoom's rush Hog is a fabulous creature bait. Worked slowly over rocks and logs, the salamander looking bait entices even the wariest of smallmouth bass. Try different sized bullet fishing weight to get that perfect presentation. 
The last bait on the list may be out there for some folks, but a wily Pennsylvania smallmouth fisherman put me on to Wordens' Rooster Tails in hot pink. I use them as my go-to bait when the fishing is tough, and they produce. I do make sure none of my buddies are around, though. And the Pennsylvania angler — she's now my wife! 
There you have it. If you are looking to make a smallmouth bass fishing trip and need to pack light, go with the deadly dozen, and you'll have every scenario covered.