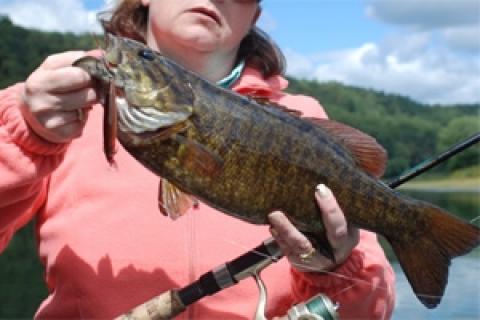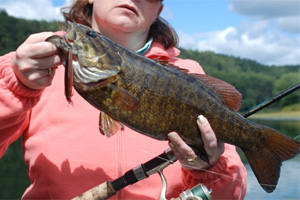 The rigors of winter took their toll in the Missouri Ozarks. Frozen lakes and streams kept fishermen at bay for weeks. There are not a lot of ice fishermen in the Ozarks.
Change is in the wind, however. Warming winds have stirred the waters. The tides are turning in the fisherman's favor. Anglers can now hit the Ozarks streams with confidence that smallmouth bass will bite.
Corey Cottrell, of Huzzah Valley Resort, near Steelville, Missouri, is a highly respected smallmouth fisherman. Cottrell grew up along the banks of the Huzzah Creek and the Meramec River valley. He spends many days each year chasing smallmouth bass, his favorite quarry. Cottrel is my "go-to" guy when I want to know what is going with smallmouth on our Ozark streams.
I recently sat in a boat with Cottrell on the Meramec River. We caught a 60-degree day in the midst of a long cold spell. Although the sunshine warmed our backs, the water temperature hovered around 36 degrees.
"Smallmouth are still sluggish with the cold water temperature," Cottrell observed. "I know of several deep holes where smallmouth hang out in the winter. I should be able to catch a few there."
Fishing proved very slow, but Cottrell managed to catch a couple of good smallmouth by dragging soft plastic baits ultra-slow across the river bottom in 14 feet of water. "You have to work for bass when water temperatures are so cold," he instructed. "But, today is a prospecting day. Warmer days are coming and a few degrees increase in water temperatures will kick smallmouth into a feeding mode. I will begin tossing jerkbaits when the water temperature hits 47 or 48 degrees.
Five days after I fished with Cottrell, I presented a smallmouth fishing seminar for the Missouri Smallmouth Alliance at their monthly meeting in St. Louis. President Matt Weir opened the meeting with projected photos of two alliance members who had caught jumbo smallmouth bass a couple of days previously on jerkbaits. They had found warmer waters and found fish as well. However, they fished deep and used suspending jerkbaits, which they twitched only slightly.
Jerkbaits come in all shapes and sizes. Lure choice is commonly a matter of personal choice, but a good lure with quality hooks is essential, according to Cottrell. "Fish are still a bit lethargic even when water temperatures are hovering at that magical mark of 37 or 38 degrees. They are not going to chase a bait. You have to put your lure in their face and to do that you must know where smallmouth live in the winter. They will not be in many of their summertime hangout. Deep holes, or spots where the water temperature is a few degrees warmer, are areas on which to key. And bites will be light. Sharp hooks improve hook-up rates considerably."
The variety of jerkbaits on the market seems endless, but you can't go wrong tossing one of the following: Gary Yamamoto Tenkuu Jerkbait, Strike King KVD Jerkbaits, Lucky Craft Pointer, SPRO McStick, Rapala X-Rap, Rapala Husky Jerk or a Bass Pro Shops XPS Professional Series.