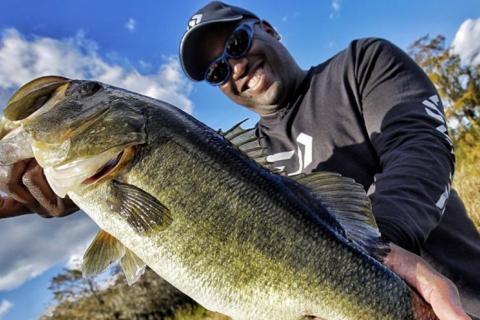 Bassmaster Elite Pro, Ish Monroe is all about catching big bass!  When he heads to Florida in the spring, he knows it is one of the best times of the year to catch a largemouth bass over 10-pounds.  While he sure loves his home waters of California, the bass that grow in Florida can cure a bout of homesickness for anyone!


Monroe is no stranger to success in Florida, he won the Bassmaster Elite event there in 2012 with a whopping four day combined weight of 108lb - 5oz. 


The Bass Spawn in Florida
"In Florida, they could start spawning in November-  It's all weather orientated," he started. "If they don't get any cold weather, it stays post-spawn.  The cold weather itself is pre-spawn and when it starts to warm up again after the actual cold weather, it's spawn."  If it sounds confusing, it's not, Monroe clarified further.  "If they had 80 degrees all along and in November they get a cold front, that puts them in a pre-spawn mode.  As soon as it starts warming up, fish want to spawn.  If they don't get any cold weather in November, then it gets pushed to December or January or February.  That's what kind of dictates the fishing down there."


Fish the Moment
Monroe was travelling to Okeechobee when we spoke and admitted, he hasn't paid much attention to the weather. "I'm more on a fishing-the-moment mindset," he proclaimed, a mentality he applies to all of his fishing.  


If there is pads and grass, Monroe feels right at home but is well aware that the lakes change every year as the weed growth is unique as will be where the largemouth will reside.


Big Schools of Largemouth Bass - Catch'em All!
In Florida, Monroe is constantly looking for big schools of largemouth bass.  He'll catch every last one of them if he can because he knows there are some double-digit fish in the mix.  "You make one cast or flip and you catch a 12-incher and the next cast or flip could be a 10-pounder," he said.


"If it looks good, it feels good, I'm going to go fish it!  Fishing the moment will make you more consistent to win an Angler of the Year title and get to the classic, but it won't help you win tourneys," he said.


Don't Think too Hard!
When fishing in Florida, Monroe seeks out grass and lily pads because he knows that largemouth bass will be in them or around them.
 
His approach is quite simple and he'll rotate through the following tools.


The Crankbait to Use

We'll, truth be told, it's not a crankbait in the true sense of the word with a  hard body and some treble hooks hanging from it.  In Florida, Monroe knows only one, the "Florida Crankbait" which is a Zoom Speed Worm.  


The Zoom Speed Worm "is the bait that you throw in between the flipping spots," he started.  "You wind it back like you are fishing a crankbait.  If you are in a pad field, you are winding that worm around the pads or grass like you are winding your crankbait around stumps."


He'll Texas-Rig it with an 1/8-ounce River2Sea tungsten bullet sinker and a River2Sea New Jack Hook rigged on a Daiwa Tatula Elite 7'4" Signature Frog rod paired with a Daiwa Tatula SV reel.


Most often, he'll throw the 4-inch Speed Worm especially when he's fishing pressured waters like Lake Kissimmee or Lake Toho.  If he's fishing during the week or on a lake that receives less fishing pressure, he'll fish the larger size.  He'll rig the 4-inch size on a 3/0 hook and the magnum size on a 5/0 or 6/0 hook.


Junebug and Redbug are both great colors, really anything dark.  "If you look at the bait or bass, its dark because they hide in dark water.  If it appears natural to them then they're going to be all about it," Monroe said.


Florida Bass are Particular - Flip Bite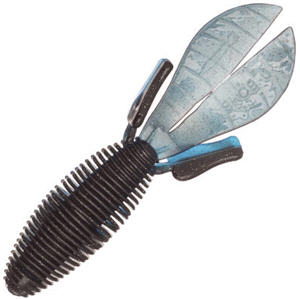 Missile Baits D Bomb & Baby D Bomb
Sure, there's much talk about targeting the shell beds in deeper water, but Monroe wants no part of it.  "Flipping is going to be my first choice all the time anyways.  There's not one lake I've seen in Florida that doesn't have grass or pads," he said.


Monroe has found Florida bass to be quite particular.  If you fish a creature bait, it must be simple, like the Missile Baits D-Bomb as it has very few appendages.  If there is going to be any kind of a curl tail involved, it has to be a worm like the Missile Baits Tomahawk.
 
He'll choose the best sized weight to penetrate the cover he's fishing.


In Florida Fish the Jig Differently

Monroe is well known for his penchant for pitching and flipping a jig.  "I like to jig more in the post-spawn bite and when the fish are really focussing on shell-crackers and blue gill and when I'm trying to target a bigger bite," he said.


In Florida, he'll fish a jig a little differently than normal.  He'll pitch it out and let it sit, and sit, for 15-seconds waiting for the fish to come to the bait.  "That might not seem like a long time but pitch your bait in there without moving it and count to 15!" he said.


When they bite, even the biggest fish will just suck on it after picking it up off the bottom, and Monroe will see his line move before setting the hook.  Those that hit the jig on the fall usually smack it pretty good.


He'll rig up a black/blue colored ¾ to 1-ounce River2Sea Biffle's Junkyard Jig with a D-Bomb trailer that he'll fish on 65-pound Maxima Braided Line.  He'll fish the rig on a Daiwa Flipping Tatula Elite 8ft Signature Flippin rod with a Daiwa Steez A baitcast reel that is coming out in the first part of 2017.