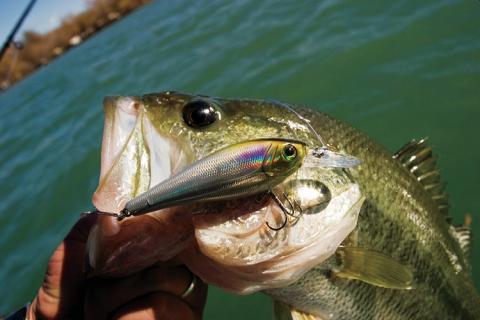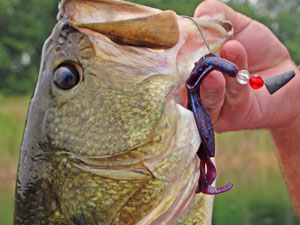 Creature baits such as Zoom's Brush Hog are the ticket for hungry largemouth bass in river environments.
I revel in one-upping an angler whom I know is the much better fisherman. The pie grows sweeter if I trump the angler on his home river. Such was the case a few years back when I spent a day on Huzzah Creek in southern Missouri with well known smallmouth fishing guide Corey Cottrell.


Cottrell had grown up on the Huzzah and knew every smallmouth by its first name. However, he had shorted attention to the healthy population of largemouth bass who called the Huzzah home. I had experience with them and largemouth from other rivers and knew well what those summertime bigmouths would eat.  


Cottrell and I had been thumping good smallmouth bass for about two hours as we drifted along. I picked up a biatcaster and rigged it with a 12-inch blue and black Berkley PowerWorm. "What do you plan on catching with that?" echoed from the other end of the canoe.  


"Moby Dick, perhaps!"  I replied. "Haven't you ever heard the theory about 'big lure — big largemouth bass'?"  


"Yeah, but not for the Huzzah," Cottrell retorted with a laugh.   I knew a big log lay just around the bend. I had the big worm ready. As we approached the ancient laydown, I flung the big worm well upstream so that the current would sweep the worm well up under the shady hides of the log. "Yeeeaaah!" I shouted as a big largemouth struck the worm and went airborne.  


"That's the biggest largemouth I have seen come out of the Huzzah," Cottrell chortled.  


"It's only three and a half pounds," I meekly proclaimed. "Two years ago I floated this same stretch with Vern Clements and he nailed a 6-pounder on — get this Cottrell — a monster buzzbait. Remember what I told you about big lures for big largemouths?"  


"Got anymore of those big worms?" Cottrell sheepishly requested.  


Catching summertime largemouths does entail more than utilizing the biggest lure you can find in your tackle box. Largemouth may be found about anywhere in a river during the heat of the summer. During cooler parts of the day largemouth bass will be found in more open water perhaps relating to rock or log structure. Pitching a bait to a good ambush point is a sure key to success.  


As the sun rises higher in the sky and light becomes more intense, largemouths will seek shady areas. Shady areas will include overhanging limbs, space below fallen logs or debris and shadows created by boulders and other structure. Use these basic theories with the right lures and you will be in the largemouth catching business on most rivers during summer.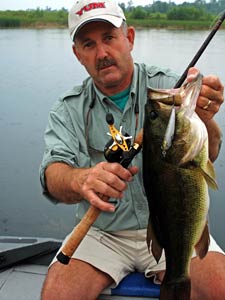 Bass Pro's XPS Slim Dog helped the author fool this 7-lb river largemouth.
A well thought out plan is a key to a successful bass fishing trip on moving water such as a creek or river. Rigging at least four rods before you hit the water will assure quick and easy readiness to address every spot in the water column from top to bottom. Summertime river bass anglers often make the mistake of taking only topwater baits, because topwater action can be hot in the summer and is the thrill of thrills for a bass angler. However, such shortsightedness too often sends prospective bass catchers home with a frown on their faces. Being prepared is the name of the game.
 
The number of lures on the market today is astounding. What is more astounding is that, given the correct conditions for the lure, most of them really work. Prior to your next river bass fishing trip, I recommend that you take a look at Bass Pro's Fishing catalog. You will find a staggering assortment of the best bass lures which will cover your fishing needs top to bottom.  


Every bass angler has his favorite lures, but when I go to the river for largemouths, the following proven lures make the trip with me. Topwater action is my favorite, too. I wouldn't be caught on the river without a supply of Lucky Craft Sammy baits in a variety of colors and sizes. Bass Pro's XPS Walker or XPS Slim Dog will work equally well. Walk the dog with these baits in open water and around cover and hang on for shoulder wrenching action.  


Other topwater baits I pack along include: Heddon Spooks and Torpedoes, Arbogast Jitterbugs and Hula Poppers, Storms Rattlin' Chug Bug, Rebel's Pop-R, the Spro Bronzeye Frogs, Zoom's Horny Toad and Super Flukes and Strike Kings Tri-Wing Buzz King.  


When largemouths are finished feeding on top, I pick up another rod rigged with a bait that will swim just a few inches under the surface, most often a Strike King Bleeding Bait spinnerbait in white or chartreuse. Many styles of spinnerbaits will work well. I use them as prospecting baits. I can cover a lot of water quickly and locate fish. Once I have located feeding fish I often switch to another bait and fish slower to cover the structure more thoroughly.  


Other shallow running baits include stickbaits from XCalibur, Smithwick, Bomber and Rapala. Packing a variety of sizes and colors is the best laid plan. Working these baits in slight current near rock rubble and other cover is very effective. Weighted flukes and swimbaits can become deadly offerings as well.  


If bass are not responding to my first two offerings on top and shallow, I begin to check for fish at the mid-depths of the stream. This is where crankbaits shine. Storm Wiggle-Warts have been around for a long time, but still work charms on river bass, especially the green and brown crayfish patterns.  I toss in lighter and darker patterns to cover a variety of water clarity conditions. The Original Bill Norman crankbaits in silver/black, silver/blue, bone and chartreuse are personal favorites. Strike Kings Red Eye Shad and Rapalas Rattlin' Rapala produce good bass, too.  


Plastic worms and grubs can be the ticket for the day at mid-depths as well. Zoom has a wide variety or worms with assorted tails that twist, wobble and kick. Green pumpkin, black/blue and motor oil color with red fleck work well in most situations. Yum's Dinger and Ribbontail worms are other go-tos when conditions get tough. Strike King's Anaconda and Bass Pro's Triple Ripple, Caterpillar and Spring Grub are enticing baits that bass can't resist when they are swam slowly by structure.  


Surprisingly, fishing the bottom of a river for largemouth bass can be very productive and many times is the most productive water column for the day. I can remember more than one occasion where I began my day on the river as usual by tossing big buzzbaits and other noisy surface lures in hopes of enticing explosive strikes. They did not always come.  


Quite often I go straight to the bottom when topwater action doesn't develop.  My first choice is Chompers Twin Tail Grub. Green Pumpkin and Rootbeer Green Flake are two of my favorite colors. There are dozens of creature baits on the market and almost all work on bass. You can't go wrong with Zoom's Brush Hog or Baby Brush Hogs and lizards.  


Your tackle bag should also include a variety of Yum's scented creatures, such as the Wooly Bug and Mighty Bug. And don't forget the Bass Pro Heavy Salt Tubes and a few packages of craws.  


Pack your tackle bag with these suggested baits next time you head to your favorite river in pursuit of largemouth bass and you are sure to be a part of the fun and frolic of fighting old bucketmouth.