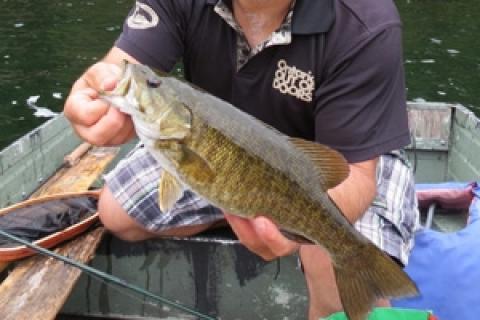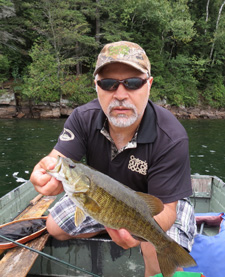 Recently, I took a friend to one of the better smallmouth lakes I know. This is a big, rugged Canadian Shield lake that holds good numbers of smallmouth in those classic locations that we all know and love. Those bass hang out among boulder strewn bottoms, drop offs, shoals and submerged timber, especially if weed edges are nearby.
But come September things change. The aquatic vegetation recedes and the fish relocate just a bit — in this case, we finally found them scattered and suspended in deeper water near drop offs and points. They seem to have lowered themselves to align with the fading weeds.
The trick — and we knew this going in — was to find the schools and then make the most of it.  So how does a fly angler do that in a big lake?
Two ways worked for us.
First, we trolled. I know, for some fly anglers this is heresy, but when you have big water to cover and no real sense of where the fish might be, nothing gets more immediate results.
When two anglers are trolling, it's best to use different patterns and lines until you figure out what the fish want, On that day, I used a sink tip line and my fishing partner used a floating line. We both used very different streamers — me a white one, him a dark one. Then, we made multiple passes back and forth over likely areas until we made contact with decent fish.
In this case, they were hitting the deeper fly especially on turns (when the fly drops even deeper) and virtually ignoring the higher fly.  Knowing this, my buddy tied on a Clouser with heavy dumbbell eyes and then we drove the boat upwind to commence with the second and most effective method. We cut the motor and drifted through the productive waters. Drifting allowed our flies to get deeper and the results were immediate.
When the bite died down, we moved on looking for similar situations and picked up fish every time we found them.  Suddenly, we went from no fish to a decent day.
The point I'm making here is that when the bass change their patterns, it's no good to fish the way you did earlier in the season. Nor is it good to patiently fish one area — you need to cover water until you find those aggressive fish.  For boat-bound fly anglers trolling is a great way do this and zero in on the location of the schools.  In big lakes, it's one of the best ways to maximize your fishing time. 
Once you find the fish, mark the spot either visually or with GPS and drift through a few times, experimenting with depth and flies until you stop catching fish. 
Autumn can yield some great fish and exciting times for the fly angler. All you need to do is locate them.