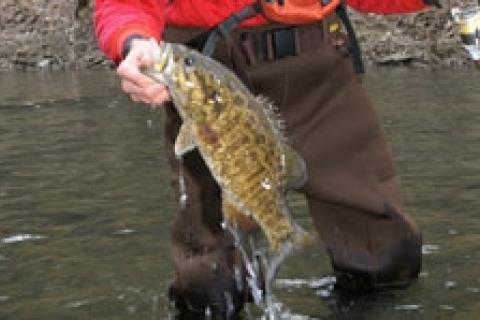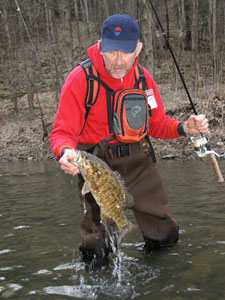 Dave Keith with a smallmouth.
One of the more overlooked angling options is that provided by smallmouth bass in smaller flowing waters, low gradient streams, the kind that get too warm for trout during the summer.  Big creeks such as this often provide ideal habitat for smallmouth bass. Other than places where a road parallels the stream, or at bridge crossings, fishing these waters requires more work than most anglers are willing to invest. They are missing out on some fine sport, particularly early in the spring when the biggest fish are often taken.
My first 20-inch smallmouth bass came from such a stream, more years ago than I care to recall. And though I spend much of my angling time chasing bronzebacks from a jetboat, I relish the occasions when I pull on the waders and fish the smaller waters.
Pursuing stream smallmouths exemplifies simplicity. You don't need a great assortment of lures to be successful. Soft stickbaits like Zoom's Fluke and Yum's Houdini Shad are must-haves, as are hard jerkbaits like the smaller Rapala's X-Raps and XCalibur's xt3 twitchbait. Work these baits ever so slowly, giving the bass ample time to rise up and strike. Even in 40 degree water bass will often move for a jerkbait, providing you fish it slow enough.
Jerkbaits work best when the water is clear to slightly stained, as they are largely sight lures. If the waters cloudy, or bass aren't showing an interest in moving up, go down to them with bottom baits like Bass Pro Shops Tender Tube or a 3- to 4-inch twister tail grub. Fish these on light jighead; 1/8-ounce is most appropriate for the typical smallmouth stream. Opt for economy-type jigheads as they often don't last long when creek fishing. Throw in a couple crankbaits like Rapala's 2-inch Fat Rap and you're pretty well set.
Expect to find early spring stream smallies in the deeper, slower pools. The best creek sections will have several of these holes in a fairly short distance, simply because such a situation will provide more spots for a foot-bound angler to fish.
Smallmouth streams often flow through private land — often farm land — so be sure to get permission before hiking back to a creek.