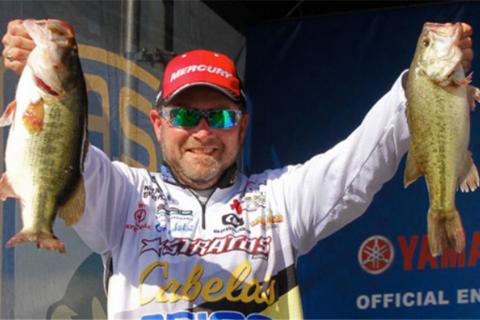 Fishing tips and tactics from Cabela's Ambassador Mike McClelland.
By Jeff Samsel
If you always looked down while you walked, you'd miss a bunch of stuff, and the same principle applies to only hopping and dragging fishing jigs.
"A lot of people look at a jig as a bottom-fishing bait, but a jig is much more versatile than that," said Cabela's Ambassador Mike McClelland, a Bassmaster Elite Series pro from Bella Vista, Ark. "Swimming a bass jig is sometimes the best way to catch fish."
Swimming a jig has year-round applications for McClelland, with presentations that range from fast, erratic retrieves barely beneath the surface, to swimming the lure just off the bottom.
One of his favorite times to swim a jig is during the spring, when fish are getting aggressive, but won't quite commit to a topwater lure. He likes to fish it around shallow cover.
"It comes through cover well. I'll fish it around boat dock, laydowns, really anything. It's exceptional around vegetation, like hydrilla that hasn't quite topped out or water willow," he said.
McClelland noted that the best jigs for swimming are bullet shaped and sleek, which helps them move through vegetation. He normally swims a quarter- to half-ounce jig.
Jig Color Choices Depend on the Forage McClelland Seeks to Match
If the bass are chasing shad, he'll use a jig and skirt that feature silver and white.
If he believes bass are relating to bluegills or crawfish, he might use greens or browns instead.
Trailers, like colors, depend on the bass' likely forage.
If fish are feeding on shad or other baitfish, he wants a fish-shaped trailer like the swimming minnow he developed with Cabela's, the Cabela's Mike McClelland Competition Series 4.4 Swimmer. For crawfish, he might use a Strike King Rage Tail Craw soft bait or Bass Pro Shops Flippin' Craw.
McClelland throws a swim jig on a 7-foot, 2-inch fishing rod and a baitcasting reel, with an 8:3 gear ratio like the Johnny Morris Carbon Lite 2.0 Baitcasting Reel.
"A lot of hits are ferocious. The fish will really push toward you, and you need that high speed to catch up and hook them and to get them out of the cover," he said.
He uses 40- or 50-pound braided fishing line like Spiderwire Stealth Braid if he can get away with braid. If the water seems a little too clear and open for braid, he'll use 17- or 20-pound Sunline FC Fluorocarbon fishing line.
For most swim-jig combinations and presentations, McClelland adds many variations.
"A real key to fishing a swim jig is to add a lot to presentations. I never stop snapping, pausing and popping as I swim a jig, especially when it's near the top."
Variations make the jig jump erratically, and that triggers strikes.