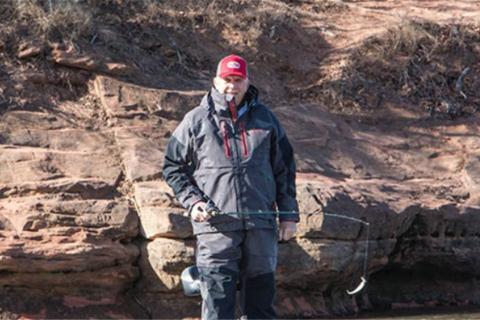 Cabela's Pro Staff member and professional tournament angler Dave Smith shares his techniques for bass fishing when the temperatures start to drop.  
By Joe Arterburn
Bass Fishing When the Temperatures Start to Drop
A mistake many anglers, even experienced tournament anglers, make is failing to recognize the transition to fall fishing and the effects of falling water temperatures on bass, according to Cabela's Pro-Staffer member Dave Smith.
"As one of my favorite fishermen, Larry Nixon, once said, 'Big Dave, fish the weather. This includes fall conditions,'" Smith said.
During the fall transition, when water temperatures drop, bass are suspended on baitfish "and it becomes a typical hard bite," Smith said, and a mistake anglers make is not recognizing it before it's too late.
"The change of temperature is a great indicator as I firmly believe it's in the fish's DNA to expect the change," he said.
Anglers, too, should expect, and take advantage of, the change.
"I start fishing the fall patterns in the Northern states about the first week of September and in the Southern states about the last week of September," he said. "Other than temperature and the time of year, some of the best indicators are when bass surface when feeding."
Also, Smith said, watch for gulls and other birds ("They're part of the food chain as well," he said.) gathering and feeding on baitfish that bass and other predator fish are pushing toward the surface.
Falling temperatures make baitfish "predictable as they tend to ball up more, creating larger schools," he said.
"The start of the whole process is when the water gets to the mid- to high 60s," Smith said. "The metabolism of the baitfish goes down and they get very vulnerable as they are going into a semi-dormant state for the winter. This will cause a feeding frenzy as they start to school. And bass are trying to put on body fat, and the females are doing early preparations for the spring spawn."
Bass, too, are schooling, he said, and "these schools of bass force their prey into creeks and shallow pockets. As such, they are vulnerable to top-water baits, such as the River2Sea Whopper Plopper, Spook and buzzbaits."
Smith prefers imitation shad colors and monofilament line, because it floats.
However, he said, some baitfish will stay at deeper depths, especially at colder temperatures, so you can get to them with jigging spoons.
"One thing I look forward to every mid to late fall is using the jigging spoon," Smith said. "Any fish locator will spot the schools of shad very easily, then I take a three-quarter-ounce jigging spoon with fluorocarbon 15-pound-test line. This will give you the chance to catch a limit of fish of a lifetime. I've experienced this on a number of occasions. I take the opportunity to go fishing four or five times a year in colder temperatures using only a jigging spoon."
In the early months of the transition period, Smith is likely to use square-bill crankbaits, in shad colors, and through the transition also uses wake baits, swimbaits and spinnerbaits.
"I really like to use a white swim jig around docks or any structure," he said.
For finesse fishing, Smith recommends using drop-shots, with 6- to 8-pound test, or shaky heads, with 8- to 10-pound test, "but I prefer a half-ounce casting jig, which is a small-profile casting jig, because it's effective in all areas and covers more water faster."
Favorite jig colors include black, blue, crawdad and peanut butter and jelly. He uses Shimano GLX rods fitted with Shimano casting reel like the Shimano Curado DC Casting Reel.
And, as always, be prepared for weather transitions too, Smith said.
"Cabela's Guidewear rain gear with articulated elbows is a must," he said. "I've never met a fisherman who didn't agree."