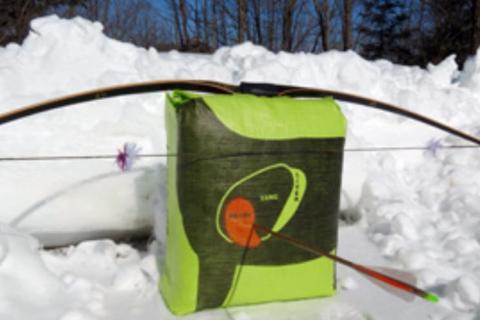 Normally when you see the phrase "target panic" in the title of an archery article, you're expecting to hear about an affliction that prevents shooters from hitting the mark. This time, however, you're going to hear me lament about the fact that I've finally worn down my backyard bow targets and need to buy a new one quick. Turkey season in Ontario is less than a month away, and I need to hone skills dulled by a frigid winter's worth of infrequent shooting.
That's cause for panic, if you ask me.
So how do you choose an archery target? First, decide what you want it for.
In my case, I'm buying the target to accommodate my 50-pound longbow and 57-pound American flat bow — the two bows I shoot most often.

Tip: Learn to shoot a bow like a pro in real world conditions - click watch video

I'll be shooting at ranges from 3 to 25 yards, so I don't need a huge archery target. Somewhere in the range of 18 inches by 18 inches will probably do just fine. And since a target for traditional bows does not typically need to be as substantial as one for a compound bow like the Cabela's Insurgent HC RTH Bow Package  and crossbows, I probably don't need one that's too overbuilt either. That's not saying that I won't opt for a bit more durability, just that I really don't need it for these slower shooting traditional bows.


Since I will only be shooting field points at it, a bag-style target will be just the ticket. A good one provides excellent stopping power, great durability and easy arrow removal.


Having said that, with turkey season rapidly approaching, there will be times when I'll want to shoot hunting broadheads just to confirm they're tuned and going where I need them to go. Then I'll use a block-style layered foam archery target that I keep just for this. Make no mistake, you need a purpose-built broadhead target for confirming broadhead performance. A hunting broadhead will tear up a bag target way too quickly. So, if you are just going to buy one style of target, chose one that can do double duty for field points and broadheads.


You'll notice I haven't mentioned 3-D animal targets. That's only because I have access to a good 3-D target course at a nearby range. Otherwise, this decision would be even more complex.


Luckily, it's a rather easy decision. For the yard, I just want something I can shoot a couple of dozen or so field-point tipped arrows at every day. It's just got to be sturdy enough to stop them and durable enough take thousands of arrows before replacement.


So, I'm off to get a bag target. That still leaves me with a lot of choices when it comes to size, target faces, thickness, price and quality but at least I'm no longer panicking. Heck, if I go get it now and start practicing daily, I'll be ready for turkey season.


Learn to Shoot a Bow Like a Pro in Real World Conditions