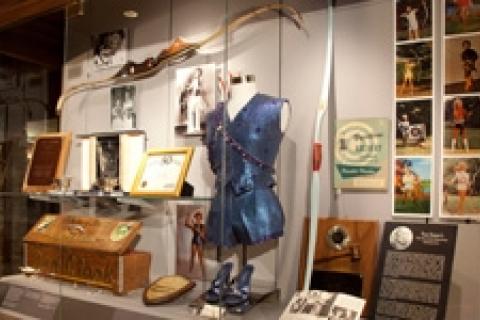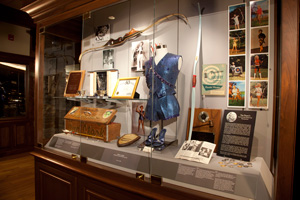 Ann Clark's display at the Archery Hall of Fame in the Bass Pro Shops at Springfield, Mo.
If you're not very familiar with the history of archery, then you might be surprised to find that 14 of the 72 inductees into the Archery Hall of Fame and Museum are women. The Museum, located at Bass Pro Shops in Springfield, Mo., has several displays dedicated to these women — many of whom helped popularize target archery in the '40s, '50s and '60s.
Kurt Surber, who helps oversee the Hall of Fame and Museum, said the most common thing he hears from visitors is how they're surprised to see how many women contributed to the sport of archery. "Even if you're unfamiliar with archery, it sends a neat message that it's a sport for everybody and bowhunting and target archery isn't something you have to be big, fast and strong to do," he said.
Archery Hall of Fame and Museum executive director Diane Miller said she's very proud to see such a significant number of women represented in the Hall of Fame. "We have some whoppers and most of their names are Ann, which is kind of funny," she said.
In fact, one of the first members to enter the Hall of Fame in its inaugural class of 1972 is Ann Weber Hoyt. In over 20 years of competing in national and world tournaments, Hoyt finished first eight times, second seven times and third three times. In 1955, she became the first woman to win both the National Target and Field Championships, according to the Archery Hall of Fame and Museum website.
Ann Marston, Hall of Fame class of 1978, has one of the more popular displays in the Museum, Surber said. Part of her fame comes from competing in the 1960 Miss America pageant representing Michigan. She won the Talent Award by shooting her bow. Sadly, Marston passed away at the age of 32 from a stroke caused by complications from diabetes.
Babe Bitzenburger, along with her husband Henry, are one of several couples in the Hall of Fame (Babe in 1976 and Henry in 1986). While Henry invented the fletching jig, Babe was a well-known competitive shooter in the late 40s. "She had the name of the Annie Oakley of archery," Surber said. "She was quite the show-person."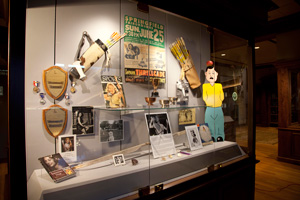 The display of Ann Marston, who helped popularize target archery when she won the 1960 Miss America talent competition by shooting her bow.
Babe was a four-time National Field Archery Association Champion from 1946-1949. More interestingly, in 1941 she set a world record in arrow flight, shooting 379 yards and 2 feet — just three inches less than the longest shot by a man that year.
Roy Hoff, also a fierce competitor in the 1940s and a 1978 Hall of Fame inductee, once stated, "Babe Bitzenburger is to archery what Seabiscuit is to horse racing — hard to beat," according the Hall of Fame website.
Miller said that while competitions for women are more prevalent nowadays, 50 years ago or more it was different. "I shot in the 60s and we had 10 or 11 (women) to a hundred men (in competitions) and a lot of us ended up competing with the men, which was a fun thing, too."
One of the few living female inductees, Ann Clark had a big hand in decorating her display at the museum, Surber said. Inducted in 1984, Clark has been a lifelong promoter of the sport. While Marston was the first female traveling exhibition shooter, she didn't live long enough to continue promotion of the sport as Clark was able to do.
"Ann (Clark) has been one of the most prominent promotional female archers in the history," Surber said. "She actually made a living with her bow and arrow from a fairly young adult age. She did that through exhibitions and sport shows and outdoor events."
Surber said he's thrilled to see the interest in the women archers and hopes it can inspire young girls to take up the sport. "I'm very glad that message is getting out there because it's definitely not just a sport for men."