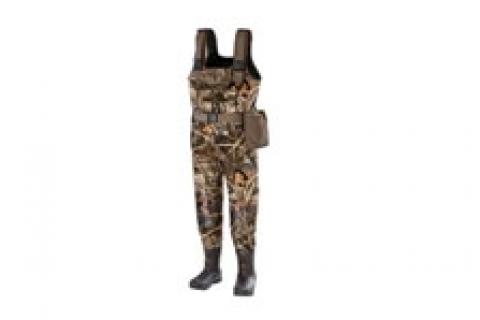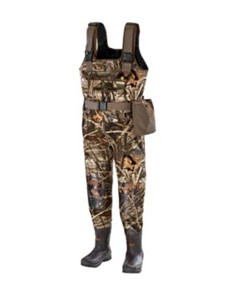 LaCrosse Swamp-Tuff Pro Insulated Waterproof Waders
When comes to waterfowl hunting, having great gear is instrumental to your success. A great pair of waders will keep you dry and comfortable, contributing not only to the success of your hunt, but also the likability of it.
In the field, the LaCrosse Swamp-Tuff Pro Insulated Waterproof Waders performed as advertised. They are constructed of heavyweight 5mm fleece-lined neoprene, with abrasion-resistant Brush-Tuff facing that defies brush, corn stalks, thorns, rocks and other debris. Knowing the material is sturdy and dependable allows hunters to hunt and not worry about being too rough on their waders.  
The pockets are located in multiple convenient locations, including two large pockets in the front chest, along with a deep-set hand pocket to keep your hands warm when activity is slow. In addition, a removable Velcro pouch is located on the inside of the chest, perfect for storing your cell phone or wallet. A shell pouch located conveniently on the belt allows for quick access to extra rounds.
The shoulder straps are padded, and fit comfortably once adjusted to the individual's frame. Between the belt and highly adjustable shoulder straps, the entire upper portion can be tailored to your needs that day. This is great for early season where conditions one day might call for lighter layers underneath, and the next a heavy-insulated jacket.
While the chest is highly adjustable, boot size is not so flexible, so make sure you purchase the right size! The contoured ankle fits comfortably, not allowing for too much wiggle room and therefore slippage. The bottom of the boot features a hiking inspired outsole with exceptional grip, even in the muddiest of terrains. This is great when hunting late season when there might be ice, snow or both.
Overall, the LaCrosse Swamp-Tuff Pro Waders are well engineered, good-looking, comfortable, durable and dependable. "You get what you pay for," rings true again considering this pair of LaCrosse waders.