Throughout January, February, and March many dedicated walleye fishermen traverse hundreds of miles of ice tracking the movements of giant schools of fish. I feel blessed to take part in this unbelievable season and keep reminding myself that this event has not taken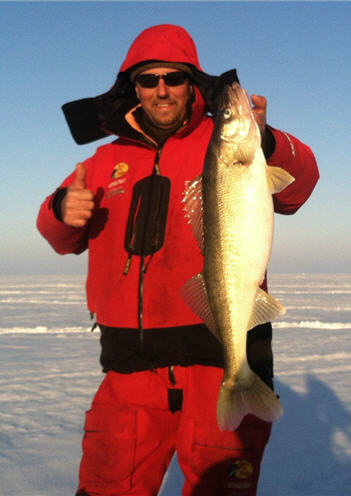 place for 17 years.


What makes this phenomenon so exciting is that in 2003 Lake Erie's natural walleye hatch was one of the best in all of recorded history. Just by chance, they fully matured in 2014. This once in a lifetime experience opens up an opportunity for record catches of giant walleye. Right now, they are staging up for the 2015 spawn. Females averaging 8-14 plus pounds are in a pre-spawn feeding frenzy for the next month.


My adventures have been out of Crane Creek State Park, as well as Camp Perry near Port Clinton, Ohio. Last year, I fished roughly 6-10 miles north toward West Sister Island. I've caught fish north, south, east, and west of the island as well. The large groups of fishermen will give clues to where the fish are.
Being mobile is the name of the game on a large body of water. One has to be consistently ready to move in order to find the fish. Use of a Vexlar or portable fish finder is a definite plus for locating fish. Once found, the pre-spawn walleye are more than ready to hammer just about any offering you have for them.


My fishing reel choice is the Johnny Morris size 10 signature spinning reel, lined with the very thin 12-pound Off Shore Angler Magabraid. I carry one on a 24-inch high quality graphite rod for shanty use and also a 30-inch combo for when I'm hole hopping looking for fish outside the shack. The combination of sensitivity, low stretch, and smooth drag puts more fish on the ice.


Tying a small barrel swivel to the braid followed by a 24-inch six pound fluorocarbon leader is a deadly tactic for winter walleye. I've found that a simple snap clip  works well for changing lures as well as limiting the size of the terminal tackle.


My lure selection consists of jigging Rapalas, Swedish Pimples, Do Jiggers, Little Cleos and just about any other vertical jigging lure tipped with a minnow. Walleye are aggressive feeders and, when the bite is on, you can put a limit on the ice quickly. 


Watching your fish finder will let you know what presentation the fish will like. Through trial and error, I've found that once a fish shows up on your screen he is interested. Making your bait look like it's trying to escape seems to be the ticket.


As of January 14, 2015, Lake Erie is 70 percent covered with solid to skim ice and freezing up fast. I have already heard reports of 6-7 inches of ice three miles north of Camp Perry, Ohio. Although some die hard fishermen have wandered out, I would wait until the lake forms enough ice to stop shifting and reduce pressure cracks for safe travel.


Warning to all: Lake Erie ice and weather conditions are as extreme as anywhere on the planet! Unprepared fishermen can get in trouble in the blink of an eye. Dependable machines, GPS, warm GORE-TEX clothing, and basic survival gear are a must. Planned trips must be dictated by weather and caution is an absolute.


For those of you looking to cross that 10-pound walleye off the bucket list, I highly suggest looking into the one of the most unique trophy walleye fisheries on the planet, where the 10 pound mark is broken daily. Weather permitting, the 2015 season will provide us with another shot at the best trophy walleye ice fishing opportunity in the world.


Dave Lee
Bass Pro Shops Field Staff