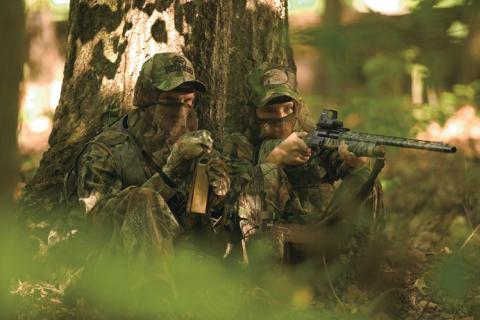 Turkey hunting is one of the most exciting pursuits that a sportsman can undertake. But specialized clothing is needed to fool a sharp-eyed gobbler and lure him into shooting range. Here is what you need to know to get started in this thrilling sport.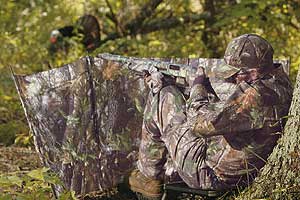 It's said that a wild turkey has such keen vision that it can instantly perceive everything within its field of view.
It is said that a wild turkey has such keen vision that it can immediately perceive everything within its field of view. In addition, unlike many of the other game species that hunters pursue, turkeys can see color. This means that not only should unnecessary movement be avoided, but also that full head-to-toe camouflage is necessary to blend in with the surroundings and to help mask all necessary movements. Let's start at the bottom and work our way up.


Hunting Boots

The type of boots you need will depend largely on where and when you are hunting. Since 49 states and four Canadian provinces have at least a spring season, and many have a fall season as well, the terrain and weather conditions can really vary.


For the most part, spring-time temperatures are fairly mild wherever turkeys are hunted. As such, lightweight, uninsulated or lightly-insulated boots are the most popular choice. Although many hunters opt for high rubber boots in lowland areas, especially in the Deep South, hunters out west may want boots with a little more support for the rugged terrain that typifies much of the region. As autumn temperatures, however, can be much cooler, something with a bit more insulation is in order, although some hunters simply choose to wear warmer socks instead. Light weight should still be a prime consideration, though, as walking several miles a day in search of birds is not uncommon in turkey hunting.


If you choose short boots, or pull your pant legs over your boots, you can get away with non-camouflaged boots. If, however, you wear high boots or tuck your pants into them, camo boots are a good idea.


If snakes are a problem in your area, you should consider high snake boots or snakeproof gaiters to protect your lower legs.


Hunting Pants
Much of the same considerations for boots apply for your hunting pants as well. Although different pants for different conditions is best, some hunters simply opt for a light pant for most situations, with the option of wearing warm long johns underneath for those cold mornings.


Since turkey seasons can be relatively short in some places, and hunting opportunities are always too few, many hunters can't afford to stay home because of spring showers. Although wild turkeys may seek heavy cover during torrential rains, they are often out in open areas and huntable during lighter drizzles. As such, waterproof pants, or perhaps a pair of camouflaged rain pants, allow you to hunt rain or shine.


Burr-proof or cactus-proof pants can also be handy in areas where such annoying vegetation is found.


Camouflage Shirts & Jackets/Coats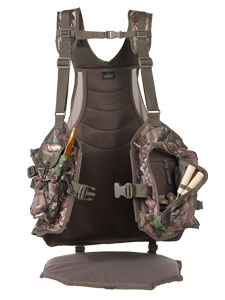 A turkey vest has become an essential article for turkey hunters.
Again, environmental conditions should guide your choice of garments for your torso. However, as with most outdoor activities that can involve varying amounts of physical exertion and span a range of temperature fluctuations, layering is often the best way to go. This allows you to add warmer clothes as needed, such as while sitting early in the morning, and yet shed some layers when the sun comes up or if you are on the move. A small camouflaged daypack or knapsack allows you to carry any extra clothing you may need.


Of course, camouflage is mandatory, even for your shirt. Although this may seen unnecessary considering that your jacket or coat will be camouflaged, keep in mind that late spring temperatures can get very warm in some areas, especially in the south, and you may find yourself hunting in shirt sleeves. Many hunters even insist on camouflaged undershirts.


A camouflaged turkey hunting vest is another essential item for most turkey hunters. The key feature of a good turkey vest is the number of different pockets that it contains for storing all manner of different turkey calls and accessories. Many turkey vests now also have a built-in back and/or seat cushion, as well as a game pouch for carrying your turkey.


Concealing Head, Face & Hands
The face and hands are two areas of the body that hunters sometimes ignore when it comes to concealment. In fact, these areas probably require more concealment than all other areas. A shiny human face can look like a big, bright beacon to a wary gobbler. Similarly, a hunter's hands will likely be moving more than any other part of the body, whether while calling or preparing to shoot. As such, gloves and some type of face covering are essential.


An assortment of light, camouflaged gloves are available for turkey hunters. Some are thin enough to feel the pull of a trigger or a bow release, while others are thicker but have the finger tips cut off for dexterity. Whichever you prefer, carry an extra pair with you at all times, in case you lose one or it gets wet.


Hunting masks or head nets are used to cover the hunter's face. These camouflaged masks are usually made of a very thin, see-through mesh. They are available in different lengths, ranging from full, pull-over style head nets (with or without holes cut for your eyes, nose and mouth), to half-masks that start below the eyes. They all have either an elastic opening or a drawstring to keep them from falling down.


If you are not comfortable with anything covering your face at all, camouflage face paint works just as well, but does require more time and mess to apply and remove.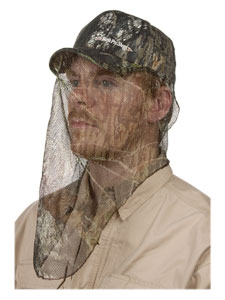 Nets attached to camouflaged caps are a good choice to keep your head and face hidden in warm weather.
A light, camouflaged ball cap is the most popular choice of head covering for most turkey hunters. Some even have a mesh facemask already attached. Again, however, cooler temperatures can warrant something a little more substantial. Something with a wide brim is also useful for keeping the sun and rain off your face.


About Camouflage
We've talked a lot about the need for full camouflage on all of your clothing, but not all camouflage is the same. Old army surplus jungle camouflage might be better than nothing, but there are myriad superior camo patterns available to turkey hunters today. Whether you hunt in evergreen forests, hardwood river bottoms, southern swamps or western plains, a camo pattern that matches your hunting area will do a better job of breaking up your outline and concealing your movements.


Camo patterns can change seasonally as well. During the early spring, when new vegetation and leaves have not yet sprouted, a pattern with more browns and greys is more effective than one that is predominantly green. This can also be true for fall turkey seasons. However, as the spring season progresses, a green-based pattern blends in much better. Try to match your camo pattern to the time of year.


Hunting Safety
As always, a word on safety is in order.


Never wear any visible article of clothing into the turkey woods that contains the colors white, red or blue. Not only will turkeys spot you, but these colors are associated with the head of a male turkey, and that can make you a target too.


Be particularly careful about making sure that you cover the top or sleeves of your t-shirt, the tops of your socks, or a neckerchief or bandana, if they contain these offending colors. Better still, don't wear anything at all that contains these colors.


Clothing that you use for other forms of hunting may be suitable for turkey hunting too, but as you become more avid about the sport, you will appreciate more specialized articles. They will not only make the experience more enjoyable, but they'll make you a more effective hunter as well.