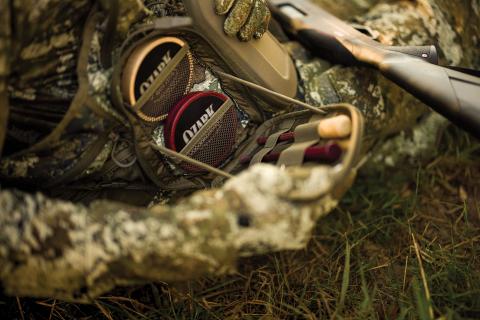 Wild turkeys are one of the most accessible game animals in North America. Their continent-wide distribution and the excitement of their pursuit draws thousands of hunters to the turkey woods each spring.
With a bit of insight and a core pack of gear, you can be one of them. Our Guide to Turkey Hunting provides an overview of turkey hunting and how to optimize your chances of success.
This gear list provides everything you need to get into turkey hunting. We here provide a variety of options and price points—to allow you to either get the best gear right away or test the waters with proven, reliable apparel and accessories sold with the value and service found only at Bass Pro Shops and Cabela's.
If you do it right, starter gear should provide a great foundation to build from. As you upgrade through time, you can keep using these items—using them yourself or providing the necessary extras to introduce a buddy or two to the wonders of turkey hunting.
Turkey Hunting Clothes
The main considerations when choosing turkey hunting clothing are concealment and ease of motion. Bass Pro Shops and Cabela's sell plenty of set ups that blend in to the woods, hold up to the rigors of hiking and move with your body comfortably.
Your final pick likely depends on where you hunt (and how cold or warm it will be when you are in the woods and the type of vegetation you need to hide in). Layering is a great approach that allows you to add or subtract layers, while adjusting to the conditions.
| | |
| --- | --- |
| | |
| RedHead Tec-Lite Long-Sleeve Woven Shirt | RedHead Windshear Elite Jacket |
| | |
| --- | --- |
| | |
| Cabela's Performance Lightweight Pants | Cabela's MT050 Whitetail Extreme GORE-TEX Bibs |
In addition to these basics, you'll likely want to consider some rain gear. You might not need it every time, but you'll certainly be glad to have it when you do.
Cabela's MT050 Rain Parka
Footwear
A solid hiking boot that provides ankle support and repels water is a must have for any turkey hunter. The farther north you're hunting, the more temperature becomes a consideration.
| | |
| --- | --- |
| | |
| RedHead Expedition Ultra BONE-DRY Insulated Waterproof Hunting Boots | Cabela's Zoned Comfort Trac Insulated Rubber Hunting Boots |
Day Pack or Turkey Vest: Packing in Your Equipment into the Woods
When you head into the woods, you'll need to carry everything you need with you. A day pack is a great, universal option for keeping yourself prepared and organized.
The Cabela's Treestand Pack is a great option. Combining capacity with a number of pockets inside and out, it allows you to pack everything you might need on your back.
Many turkey hunters opt for the turkey vest. These highly technical pieces of equipment are a spring time staple in many places.
The Cabela's Tactical Tat'r Turkey Vest features specialized pockets and compartments that allow not only storage but easy, low movement access to calls, shotgun shells and other things you're likely to need.
Now that you've got your pack, it's time to fill it.
| | |
| --- | --- |
| | |
| Cabela's Treestand Pack | Cabela's Tactical Tat'r Pro Turkey Vest |
Pack Essentials:
The most basic tenet of turkey hunting (after safety, of course) is the need for concealment. You'll be decked out in your favorite camo as you head into the woods.
Once you locate a potential shooter, select your spot, deploy your decoys and get set up. Now it's time to round out your concealment with gloves, a facemask and a camouflage hat.
Rounding out your concealment:
Light Camo Gloves
The wild turkey's eyesight and ability to pick out movement is incredible. Covering your hands and head can help you call the gobbler into range and close the deal.
RedHead Camoskinz Liner Gloves
Camouflage Hat
Lightweight hats help round out your concealment. You'll likely carry them in your pack or in your pocket, putting them on when you've located a gobbler and set up to call him in.
| | |
| --- | --- |
| | |
| Cabela's Game Day Cap | RedHead Camo Face Mask Cap |
Camouflage Face Mask
| | |
| --- | --- |
| | |
| RedHead 3D Evolution Hunting Hoods | RedHead Camo Three-Quarter Face Mask |
Hunting Essentials
You'll also need a few outdoor staples. If you're hiking in before daylight, you'll need to illuminate your path. 
A good pair of binoculars will help your turkey hunting—and many other outdoor pursuits. Then there's a good hunting knife. Every hunter needs one of these.
Small Flashlight
A compact flashlight is a great addition lto any hunter's pack. When it comes to turkey hunting, you'll likley need one to illuminate the trail on the way into or out of the woods.
Cabela's CTL 1000-Lumen Flashlight
Binoculars
When you consider that the average shotgun range for a turkey hunter you might overlook binoculars. A good pair of optics can be really useful in the field—especially when you are hunting a new area. Binoculars can help you locate roosting birds, get the lay of a landscape to determine where a gobbler might come from, or glass the boundaries of large open areas.
Cabela's Intensity HD Gen 2 Binoculars
Knives
Here are three good knife options—fixed blade, folding and a multi-tool. Any of there will work for your turkey hunting needs while making a great, general addition to your pack.
| | | |
| --- | --- | --- |
| | | |
| Gerber Spine Fixed Blade | Buck 110 Folding Hunter Knife | Gerber Truss Multi-Tool |
Making the Turkeys Come to You:
Calls
Our Bass Pro Shops and Cabela's Guide to Turkey Calls breaks down the universe of calls and their applications. It also provides some insight into how to use them.
As you begin your turkey hunting journey, here is a package of turkey hunting calls that will serve you well. We've included a mouth call here that may require some practice before you're ready to use it. That said, mouth calls present some definite advantages—practice now will make you a better turkey hunter later.
| | | | | |
| --- | --- | --- | --- | --- |
| | | | | |
| RedHead Push-Button Turkey Call | RedHead Heritage Series Walnut and Sassafras Turkey Box Call | RedHead Heritage Series Custom Slate Friction Turkey Call | RedHead Ozark Bottoms Series Mouth Turkey Call | RedHead Cherry Owl Turkey Call |
Decoys
Experienced turkey hunters often change their decoy set ups as the season progresses. Our Bass Pro Shops and Cabela's Guide to Turkey Decoys breaks down some advanced tactics and the options that are available.
As you break into turkey hunting, here are some fundamentally solid options that will serve you well in a variety of situations.
| | | |
| --- | --- | --- |
| | | |
| Avian-X HDR Jake Hen Combo | Redhead Foam Turkey Decoy Pack | Avian-X LCD Lookout Hen Turkey Decoy |
Closing the Deal:
Shotgun
Advances in ammunition have increased the variety of shotguns now capable of hunting turkeys. Our Bass Pro Shops and Cabela's Guide to Turkey Guns provides an expert breakdown of the options available.
In the meantime, here are some great options to get you started.
12 gauge: Remington SXP Hybrid Turkey
20 gauge/.410: Mossberg 500 Turkey
No matter the gun you choose, make sure to pattern your shotgun before heading into the woods. All shotguns shoot a bit differently—knowing how yours shoots is key to closing the deal.
Choke Tubes
You'll also want to make sure that your gun has the right choke tube. An X-full turkey choke is the most common model. Our Guide to Turkey Shotguns provides a great baseline for everything you need to know to get you from the gun counter to the woods.
Other Considerations:
Ground Blind
Ground blinds provide interesting options for turkey hunters—especially those who wish to remain stationary or might like to bring a kid or two (who might not want to be still for very long). Options for ground blinds include those you can leave in place for the season or those you can carry with you and deploy when you locate the birds.
| | |
| --- | --- |
| | |
| Cabela's Turkey EZE Portable Ground Blind | BlackOut X83 Hub-Style Ground Blind |
Bug Defense
To harvest turkeys, you'll need to remain still. That's pretty difficult in the presence of biting insects.
You'll want to pack repellent against both biting flies and mosquitos and ticks and chiggers.
| | |
| --- | --- |
| | |
| Thermacell MR300 Portable Mosquito Repeller | Sawyer Permethrin Premium Insect Repellent Aerosol Spray |