Since it was created in 1936, Shenandoah National Park has been a prime destination for sportsmen seeking to backpack, camp, photograph, and explore a piece of unblemished mountain wilderness. But the 102-mile long park also offers something special for fishermen: some of the finest wild brook trout streams in the East.
 
Inside Virginia's Shenandoah National Park, some 40 streams cascade down both the east and west slopes of the Blue Ridge Mountains, beckoning anglers with their crystalline pools, gurgling rapids and native brookies. While much of the brook trout's natural range throughout the East has been depleted through development and poor forestry practices, these streams have been preserved in their pristine state.
 

Tip: Brook Trout Atlas by Trout Unlimited - click here: These interactive atlases provide a means to explore mapped data related to brook trout populations, habitats, and threats in local watersheds and across their eastern range. Also, click here for the Brook Trout Atlas User Guide
 
Any hatchery introductions by the Virginia Game Department have been in much lower, valley stretches of the streams. And fortunately, the rainbows stocked have not migrated up and taken over the native brook trout habitat.
 
Anglers who have fished the Park waters for decades say that the sport here has not declined one bit over the years because of protection from development and conservative fishing regulations. While it's true the size of the fish is not large, their beauty and wariness make them a challenging quarry and a joy to try for.
 

Tip: Roads reach very few of these waters. But that's good because it keeps fishing pressure light. Most you must either hike into from dirt or gravel roads in the lowlands, hiking up, or by parking on the Skyline drive and walking a mile or two down steep mountain trails.
 
The Shenandoah Scenery
Mature trees grow thick on surrounding slopes and the air smells heavy of fir, spruce, hemlock, mountain laurel and pine. The water is cold and clear, splashing loudly over current-polished stones.
 

Tip: While most of the park's brook trout run 6-9 inches, sometimes you'll latch onto a brute in the 10-14 inch class. Those are very old fish and deserve to be gently released to provide a challenge to future anglers. Handle these trout with care!
 
Special Regulations Protect the Fishery
Only artificial lures with single hooks and flies are allowed on the Park's streams. Some are designated as catch-and-release while others have strict size and creel limits to protect the fishery.
 
For Skittish Brook Trout, Use a Cautious, Stealthy Approach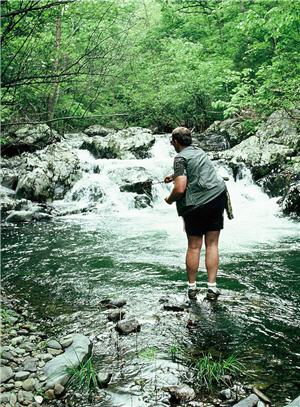 When going after Shenandoah Park's skittish brook trout, keep in mind how shy and wary these native fish are. Don't walk loudly or stumble over rocks as you approach the water. Keep a low profile, hunching down where necessary so the fish don't see you.
 
Fly Casting Considerations
Keep casts low and sidearm as much as possible. Use the upstream approach in most cases, so you can work in close for a precise cast, yet avoid spooking the wary trout.
 

Tip: The brush-choked quarters in which they are found can make casting difficult. Often it's best to stay in mid-stream and cast straight up to the next pool.
 
Fly Fishing Gear
Fly fishing is the most popular method for catching the park's trout. The tight quarters with overhanging vegetation make a light action rod of 7-8 feet just right, with a size 3-5 double taper or weight forward floating line. Add a 7 ½-10 foot leader tapering to a 4x-7x tippet and you're set.
 
Aquatic Hatches, Terrestrials Form a Large Part of the Trout's Diet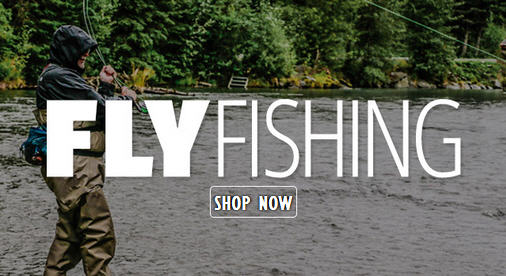 Good hatches on the native brook trout streams include the Quill Gordon, Grey Fox, March Brown, Blue Quill and Little Yellow Stonefly. Various caddis flies also hatch occasionally, and terrestrials are abundant. Those land-based insects form a large part of the mountain trout's diet. Beetles, ants, crickets, grasshoppers, leafhoppers, and caterpillars are continuously tumbling in from shoreline shrubbery.
 

Tip: More important than imitating exactly what is hatching or abundant along the stream is choosing a fly that looks buggy and tempting, and then presenting it without drag.
 
Some top offerings for the park trout include the irresistible, Gray Wulff, Humpy, Adams, Mr. Rapidan, Blue Winged Olive, Elk Hair Caddis like Montana Fly Company Elk Hair Caddis Flies, and terrestrials such as ants, beetles, crickets and grasshoppers. Sizes 12-18 are best.
 
For nymph fishing, the Hare's Ear, Pheasant Tail, and Montana Stone are good choices. Wet patterns, fished with a second offering on a dropper, are also excellent.
 

Tip: For high water conditions a small streamer such as the Clouser Minnow, Woolly Bugger, or Muddler Minnow can produce. Sizes 2-6 are best.
 
Dry Flies...the Go-To Option for Brook Trout
Dry flies such as this black ant fly are very effective on the Park's trout
Ninety percent of the time, you'll want to tie on a dry fly like the Betts Black Ant fly for fishing these wild brook trout waters. It's just too much fun watching the speedy native trout lurch up and splashily take a dry from the surface to go deep unless absolutely necessary.
 

Tip: Drop your surface offerings into the crystalline pools and deep pockets behind boulders with just enough slack or curve thrown into the cast so you get a few seconds of drag-free float. That's usually all the time it takes for a hungry brookie to swirl up and snatch your offering from the surface in a flash of orange and olive brilliance.