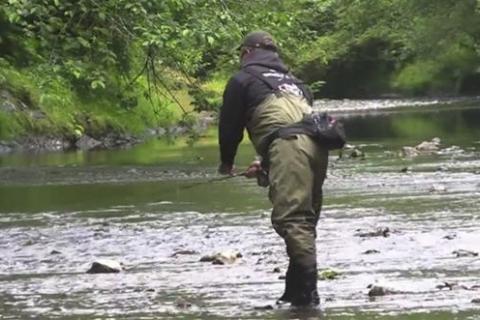 If you're a devoted trout fly fisherman, you'll probably carry a vest chock full of flies when you hit the streams this spring. But sometimes that just complicates matters and makes choosing the best fly for a given situation confusing.


If you'd like to simplify things or are just getting into fly fishing and want three broadly effective patterns, give this trio of offerings a try. Based on a lifelong devotion to trout fly fishing that has taken me from tiny creeks in Venezuela's Andes Mountains to the glacier-fed waters of Iceland, these three flies are about as universal as any patterns you can buy. 


The selection includes one nymph, one streamer, and one dry fly. These three flies will catch trout in virtually any type of water from spring creeks to freestone streams to tailwaters, anywhere from Georgia to Washington State.



  Extra Tip: Tips for Trout Fishing in the Summer Heat


Woolly Bugger: One of the Most popular Streamers for Fishing Trout
Though visions of trout heads poking above the surface to sip in mayflies often sustain us through long winter days, spring isn't always so kind. Often waters will be high, cold, and sometimes off-color.


Hatches may be delayed or simply not appear in sufficient quantities to draw fish up. When that happens, try a searching pattern. For that role, it's hard to top the proven Woolly Bugger, which can represent minnows, sculpins, leeches, crayfish, and nymphs.


This fly is basically a Woolly Worm with a long marabou tail added for bulk and fluttering appeal. Sometimes a few strands of flashy tinsel are mixed in with the marabou tail. Top colors are black, olive and brown. Hook sizes 4-10 are all useful, depending on the size of the stream you're fishing and the trout residing in it, as well as how clear the water is.


On a murky river with big browns, go with 4's and 6's. On a small crystalline brookie stream, opt for 8's or even 10's.


In shallow waters and riffles an unweighted Bugger can be useful. More often than not, a fly tied with a bit of lead on the shank is preferable. Alternately, you can pinch a small split shot on a foot in front of the fly or use a sinking-tip line. Leaders should be short, with a tippet testing 4-8 pounds.


The top presentation for the Woolly Bugger is generally across and slightly downstream. This draws the fly through the current broadside, giving the fish the best look at it. Adding sharp line-strips of six to 12 inches seals the deal.


Work pools, runs, eddies and undercut banks. Besides fast-stripping, try a slow hand-twist retrieve. Occasionally even dead-drifting the streamer along the bottom works well. This gives the appearance of a dislodged insect tumbling along helplessly in the current. 



Extra Tip: Tips for Pocket Water Trout Fishing


Gold-Ribbed Hare's Ear: A Legendary Fly Used as an Imitation of Many Different Insects

Nymphs come in a wide array of shapes and sizes. But for a productive all-purpose pattern, stock a selection of Gold-Ribbed Hare's Ears. This fly imitates the dull grayish-brown color of most natural mayfly nymphs and the gold ribbing adds a segmented look and some flash for extra fish appeal.


The intriguing thing about this pattern is its versatility. On the one hand, it can be tumbled with weight on size 6 and 8 hooks through heavy currents and catch fish. On the other, it can be delivered on threadlike 6X and 7X tippets in size 18 and take trout delicately plucking foods from the surface film. The Hare's Ear is also productive just about anywhere in between these two extremes. 


To fully utilize this fly's versatility, I prefer to stock a variety of sizes from 6-18 in both weighted and unweighted versions. Keep them organized by wrapping the heads of the ones with lead in a different color from the unweighted ones.


Use the large heavy patterns for big deep waters and off-color river conditions. Use the smaller sized unweighted versions for clear streams and when tiny insects are active.


A floating line works best for most nymphing with an 8-10 foot leader tapering to a 4X-6X tippet. Add a strike indicator near the point where the leader joins the line or closer to the fly if you're fishing shallow. For especially deep or swift water, add a split shot or two to the line to take the offering down quickly into the strike zone.



  Extra Tip: 5 Best Fly Fishing Organization Tools & Accessories
Adams Dry Fly: Is a Traditional Dry Fly Primarily Used for Trout
The Adams is a rather plain-looking dry fly. But don't let that fool you. The drab colors actually duplicate those of most aquatic insects quite well. That makes this a great fly to turn to on both lakes and flowing waters ranging from tiny spring creeks to broad plunging rivers.


The Adams is particularly deadly when aquatic insects are active, since it makes a good replica of many mayfly species. It also does a fair job when caddis flies are emerging. For most of these situations, sizes 12-18 are appropriate.


When midges are prevalent, the Adams is also a great pattern in sizes 20-24. When tying flies this tiny, if you dress your own, it's okay to leave out the wings. The fly seems to work fine without them in these small versions.


When spinners are on the water, a variation of the Adams tied with wings spread farther out and more parallel to the water can be very effective. If the trout refuse this fly during a spinner fall, try clipping the bottom hackle so the body lies flush on the surface film.


A parachute dressing with a clump deer hair wing and hackle tied around the wing parallel to the water is another style I often turn to. This works well on slick, clear waters or when fishing over hard-pressured trout. But for day-in, day-out use as a searching pattern, few flies can compare with the classic Adams pattern tied on a size 12-18 hook.



 Extra Tip: Fly Fishing Flies & Fly Tying Supplies & Materials